Third Vanderbilt football player, Brandon Banks, convicted in rape case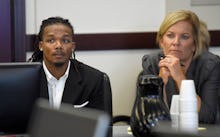 Three of the four Vanderbilt football players accused of raping an unconscious woman in 2013 have now been convicted.
After 15 hours of deliberation, a jury found Brandon Banks guilty on counts of aggravated rape and aggravated sexual battery on Friday, the Tennessean reported. He now faces a minimum prison sentence of 15 years.
"He's shocked but understands that this is only the first part of this process, there's a lot more to do from here on," Mark Scruggs, Banks' attorney, told the Tennessean. Scruggs reportedly plans to appeal.
Banks stood trial for participating in the group rape of a woman on June 23, 2013. The woman was casually dating Banks' teammate, Brandon Vandenburg, and had been out for drinks with him on June 22. She woke up the next day in an unfamiliar room without any idea how she'd gotten there or what had happened in the intervening six hours.
The police pulled footage from the cell phones of Vandenburg, Banks and teammate Corey Batey, which filled in the gaps. In some of the images, Banks can be seen touching the woman's genitals and penetrating her with a water bottle, all while she was unconscious.
Banks' defense team argued that he had only taken part in the rape because he feared his teammates would bully him if he didn't. Scruggs reportedly told the court that Banks represented "the classic example of someone who has been abused by a group, whether it be a football team, a fraternity or any other group nowadays, that requires complete loyalty, complete obedience."
Something in that defense seems to have worked on the jury. While Banks was convicted on two of the charges against him, he was found not guilty on four other counts of aggravated rape and one other count of aggravated sexual battery.
Two of Banks' teammates have already been tried. Vandenburg is currently serving a 17-year prison sentence without the possibility of parole, after a jury found him guilty of aggravated rape, aggravated sexual battery and unlawful photography in June 2016. The following month, a Nashville judge sentenced Batey to 15 years in prison after he was found guilty of aggravated rape and two counts of aggravated sexual battery. The fourth former Vanderbilt student implicated in the attack, Jaborian "Tip" McKenzie, has not been tried, but has testified against Banks, Batey and Vandenburg. He is attempting to negotiate a plea deal.
Convictions in campus rape cases — and rape cases, period — are relatively rare. Prosecutors in Banks' trial hope verdicts in the Vanderbilt rape case help set a better standard for survivors.
"There needs to be more respect for women from young men," Assistant District Attorney Jan Norman told the Tennessean. "I think that's something that definitely this case should bring to the forefront and create that conversation within people's homes and families so that hopefully we have a new generation of young kids going off to college and we can say that this will never happen again."