Trump responds to Obama's criticism of Senate health care plan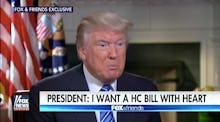 Fox and Friends aired a pretaped interview Sunday between President Donald Trump and Fox News contributor Pete Hegseth in which Hegseth gives Trump the opportunity to respond to former President Barack Obama's criticism of the Senate's draft health care proposal.
"It's [unprecedented] for a former president to come out the way President Obama has. He came out on Facebook. You may have seen it. He said it's not a health care bill; it's a massive transfer of wealth. It's gonna harm Americans; it's mean," Hegseth said, referencing a message Obama posted to Facebook Thursday.
Rather than excoriate Obama, Trump takes the opportunity to highlight common ground between him and his predecessor.
"He actually used my term — 'mean' — that was my term because I want to see, and I speak from the heart, that's what I want to see. I want to see a bill with heart," Trump said.
"Health care's a very complicated subject from the standpoint that you move it this way and this group doesn't like it. You move it a little bit over — you have a very narrow path," he continued. "And honestly, nobody can be totally happy even without the votes. Forget about votes. This has nothing to do with votes. This has to do with picking a plan that everybody's going to like. I'd like to say love, but like. We have a very good plan."
Regardless of how Trump's allies in Congress feel about the bill, the proposal has already stoked the ire of some members of the general public, who stormed Senate Majority Leader Mitch McConnell's office Thursday to protest the sweeping cuts to Medicaid.
On the day before the Senate's health care plan was made available to the public, Obama criticized the "fundamental meanness" of the American Health Care Act.
"Simply put, if there's a chance you might get sick, get old, or start a family – this bill will do you harm," Obama said of the proposal to gut the Affordable Care Act, which is arguably the keystone of the former president's legacy. "And small tweaks over the course of the next couple weeks, under the guise of making these bills easier to stomach, cannot change the fundamental meanness at the core of this legislation."
Correction: June 25, 2017
An earlier version of this article misstated the day people with disabilities protested the Senate bill at Sen. Mitch McConnell's office. It happened on Thursday.