What makes the Babadook a gay icon? Pridegoers who dressed as the monster explain.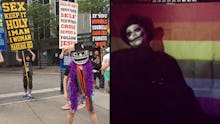 Pride marches around the world are a place for the local LGTBQ population to come together and celebrate who they are, what makes them different and also what binds them together. But, in several local pride celebrations, an Australian transplant also found a home. Ghoulish down-under LGBTQ icon the Babadook made appearances at several pride parades throughout June.
He was all over Los Angeles Pride earlier in June:
And over the weekend, he was back at it again.
What exactly inspired people to dress up as 2017's biggest LGBTQ icon? Mic caught up with Anthony Oliveira, a Twitter personality and academic from Toronto, who explained why he chose the mascot as his pride costume.
"I'm taken by this entire phenomenon," Oliveira said of the Babadook mania, which began slowly on Twitter and Tumblr in late 2016 and reached full-on mania at the beginning of pride month, in June.
According to Oliveira, he felt drawn to the Babadook because he "filled a space" in queer culture. While queer people may have an official flag — which continues to be remixed — the community doesn't have an official mascot, he said.
"You know him when you see him, even though there's a few different ways to depict him," Oliveira said in a phone interview. "He's a sonic event, he's a visual event."
Most importantly, Oliveira said, in a time when LGBTQ pride marches have become increasingly corporate, the Babadook, by nature of his own copyright, resists capitalist co-opting. As Oliveira once wrote in a tweet, he's "immune from corporate profiteering." "To use him, it has to be at the grassroots level," he said. "A bank can't glom onto it."
Oliveira also used his costume — which he made on the fly, the day of, by cutting eyeholes into bristol board, with a dollar-store hat and a $3 boa added on — to confront protesters at the parade. He said the protesters often stand at Toronto Pride's entrance and try to scare young kids from participating.
"They're trying so hard to emphasize the monstrousness, the demonic, the sinful, the malefic about being queer," Oliveira said. "What if you're just like 'Yeah, fuck you! I am this horrible nightmare. And I'm here to live my life.' That's what lends him so well to being a queer mascot. He's not ashamed to be a monster. That's who he is.
He added, "They're trying to present themselves as arbiters of who and who does not go to hell. You put this ludicrous image in front of them and they look like fools."
For Shane Kaminski, a Los Angeles-based drag queen who dressed as the Babadook for a performance during L.A.'s pride weekend, dressing as the iconic monster felt like being Mickey Mouse at Disneyland. "People want to take a picture with it and have you answer questions in the way he would answer it," Kaminski said.
As a drag queen, Kaminski said he loves to imagine fictional characters' inner monologues. When he performed as the Babadook for L.A. Pride, which took over an hour and a half of applying makeup, he lip synced to Ashlee Simpson's "Shadow."
Kaminski said the song is also a great pride anthem that makes sense for the monster to sing. "By the end of the song, it's very empowering," he said in a phone interview. "It's about finding the light, coming out of the darkness. It was fitting with the resurgence of the Babadook as a queer icon."
That the Babadook can be a black-and-white monster and still be at home in the rainbow-soaked events of pride, in and out of the U.S., underscores just how versatile the creature is.
As Oliveira said, the Babadook gets to be a "creature from beyond nightmare and he's also a proud gay man."
For Kaminski, that's the power of the eponymous film creature: He refuses to be suppressed, no matter how hard people around him try.
"Considering the world we live in right now, I think it's a powerful icon, and to add drag, which I consider an act of protest to begin with, just felt like the perfect storm."