Car slams into Eid celebrants in UK, injuring 6; police say terrorism isn't suspected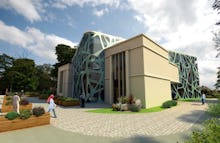 On Sunday morning, a vehicle slammed into pedestrians outside a mosque in Newcastle, England, injuring six people — including three children— according to a statement from law enforcement. Those injured had just finished celebrating the Muslim holiday of Eid.
In a statement on its official Facebook page, Northumbria police said they believe the person behind the wheel was one of the Eid celebrants.
"What we have established is that a 42-year-old female has been celebrating Eid with her family, she then got into her car and has collided with six people in the crowd," Assistant Chief Constable Darren Best said in his statement on behalf of Northumbria Police. "We have no information to suggest this is terror-related; however, this is a serious collision with multiple casualties and extensive enquiries are on-going to establish the circumstances around this tragic incident."
Best said Northumbria Police would dispatch extra officers to help assuage any anxiety caused by the incident.
"We want to reassure the public that extra officers are on patrol around our communities to answer questions and any concerns they might have," Best said.
In a statement posted to its Facebook page, the Newcastle mosque praised first responders for their quick action following the incident.
"We thank the emergency medical services, the police and over 100 volunteers from the mosque for their quick response to the incident," the mosque said. "We were able to clear the area promptly ensuring there was no delay in the injured being attended to."
Tensions are running high in the United Kingdom after a recent spate of attacks on civilians. Last Sunday, a van collided with pedestrians outside a mosque in London, killing one person and injuring at least eight others. In early June, eight people were killed in a terror attack on London Bridge.