Bill Cosby publicists insist speaking tour has nothing to do with sexual assault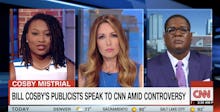 Bill Cosby's spin machine is working overtime these days.
Publicist Andrew Wyatt's recent announcement that the disgraced comedian would be launching a town hall tour to discuss the potential pitfalls of "drinking and partying" and philandering kicked up criticism — enough to land Wyatt and Ebonee Benson, the publicist of Cosby's wife, Camille, on CNN Sunday, where they attempted to reframe the narrative.
"First, I just want to be clear: The town hall meetings are not about sexual assault," Benson told CNN's Christi Paul.
Rather, she said, the town halls will be about "restoration of legacy." They will be about education; about community involvement; about advancing Cosby's belief that "the revolution begins at home." They will not address the 79-year-old's alleged predilection for drugging women before initiating sexual contact with them — unless an audience member asks about that, at which point the comedian will respond in so far as he is legally able.
As Paul pointed out, there's little to no chance the topic of sexual assault won't surface, given that Cosby's name has been mentioned almost exclusively in conjunction with sexual misconduct for the past three years and given that Cosby just stood trial for his alleged 2004 sexual assault of Andrea Constand. Because proceedings ended in a mistrial, the comedian will likely see a new trial date scheduled within the next few months.
The tour, both Cosby publicists stressed, is simply not about that.
"It's about the restoration of legacy," Wyatt reiterated. "It has nothing to do with sexual assault; I think the media took it upon themselves to turn it into a sexual assault conversation."
Wyatt said this whole thing started with a recent interview, when he answered the question, "What happens if Mr. Cosby receives a question about his criminal case and about sexual assault, would he be able to answer those?" and addressed the host's comment about national sexual assault laws. Footage from that interview — with Alabama's WBRC Fox News — shows that is not what happened. Wyatt actually raised the subject of town halls himself, unprompted, telling the host, "Mr. Cosby wants to get back to work — we are now planning town halls."
"Like a town hall just to talk with people?" the host then responded.
"We'll talk to young people, because this is bigger than Bill Cosby," Wyatt answered. "You know, this issue can affect any young person, especially young athletes of today, and they need to know what they're facing when they're hanging out and partying, when they're doing certain things that they shouldn't be doing. And it also affects married men."
"Is it kind of a 'Do as I say, not what I do'?" the host asked. "Right," Wyatt laughed. Benson then jumped in, guiding the conversation to the subject of statutes of limitations, which Wyatt did not mention. Nor did the host ask about the changing legal landscape surrounding sexual assault.
On CNN, Benson explained that Cosby's speaking tour — which certain outlets did interpret as a series of seminars on "how to avoid sexual assault allegations" — is more about "people in general needing to be educated on these [sexual assault] laws," chastising media types like Paul for getting Wyatt's muddled message wrong.
Whatever probable talking points Wyatt may have mentioned, according to Benson, Cosby is definitely focused solely on reinvesting in community activism, and not on reclaiming an image tarnished by the very similar stories of some 60 women, as has been alleged.