New York politicians used NYC Pride to stand with LGBTQ people in their fight against oppression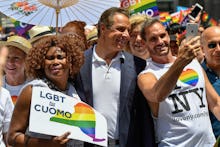 As New York City's annual march celebrating LGBTQ Pride kicked off in Midtown on Sunday, key New York politicians seized the moment to assure celebrants that they stood at the side of queer people in their fight against oppression.
New York Governor Andrew Cuomo tweeted to wish LGBTQ people a happy Pride. He reminded the nation that New York was "the birthplace of Pride," referencing the clash between queer people and police at Stonewall Inn in 1969 that many attribute as the birth of the modern gay rights movement.
Cuomo's tweet also included a video montage of important moments from the modern gay rights movement, including the passage of marriage equality within the state. Cuomo signed that bill into law in June 2011.
Former New York Senator Hillary Clinton tweeted to wish LGBTQ people worldwide a happy Pride. The former presidential hopeful reminded followers that "LGBT rights are human rights."
New York Senator Kirsten Gillibrand tweeted Sunday to send her best to everyone celebrating Pride.
New York State Attorney General Eric Schneiderman tweeted his promise to LGBTQ people that he would always fight to protect their rights.
New York City Mayor Bill de Blasio tweeted a link to a live broadcast of the parade, which included a statement of solidarity with the LGBTQ community.
Earlier Sunday, his office posted a graphic to Facebook showing the Statue of Liberty decked out in rainbow colors to celebrate LGBTQ pride.
Chirlane McCray, first lady of the city of New York and former member of the Combahee River Collective, a black feminist organization, retweeted a statement from the New York City commission on Human Rights.
Some politicians used the hashtag #LoveIsLove, a sentiment that saw a surge in popularity after Lin-Manuel Miranda, author of the hit musical Hamilton, used his 2016 Tony Awards acceptance speech to stand with the queer community of Orlando after the worst mass shooting in American history claimed the lives of 49 people at Pulse, a gay night club in the city.
"Love is love is love is love is love is love is love is love, cannot be killed or swept aside," Miranda said in the moving tribute. The moment instantly went viral.
June 25, 2017, 3:07 p.m.: This story has been updated.