Marchers arrested in Istanbul as Pride parade continues despite cancellation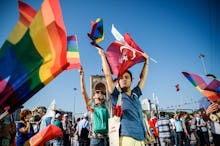 Members of Turkey's LGBTQ community pressed on with plans for a Pride march in Istanbul on Sunday, despite the parade's cancellation by the government.
The determined marchers clashed with police as they attempted to gather in the city's Taksim Square.
The event's organizers vowed to move forward with their celebrations earlier on Sunday, saying in a statement, as quoted by the BBC: "We are not scared, we are here, we will not change. You are scared, you will change and you will get used to it. We are here again to show that we will fight in a determined fashion for our pride."
But when attendees attempted to gather at the planned start time, those identifiably affiliated with the Pride event were barred from entering the march's planned locations of Taksim Square and Istiklal Avenue, Buzzfeed News reported.
A heavy police presence was on hand to stop marchers, the BBC reported, and police reportedly used rubber bullets and dogs to disperse the crowds.
The police's efforts also included chasing journalists with dogs to prevent coverage, according to local news outlet Dokuz.
Organizers confirmed at least 10 people were arrested while trying to gather for the Pride celebration, according to Buzzfeed.
Nevertheless, demonstrators continued to rally in other parts of the city, Buzzfeed noted, speaking out against the government's attempts to silence their celebration.
In the city's nearby Cihangir neighborhood, protesters gathered to beat drums and chant, "Don't be quiet, shout out, gays exist!", according to the Associated Press, though Andrew Gardner of Amnesty International reported on Twitter the police had started to detain people in that neighborhood as well.
The Turkish government had officially banned the march for the third consecutive year, citing security threats from ultra-nationalist groups. Though homosexuality is legal in Turkey, organizers believed the real reason behind the march's cancellation to be the disapproval of the country's conservative leadership, the BBC notes.
"Our security will be provided by recognizing us in the constitution, by securing justice, by equality and freedom," the organizers said prior to the march in response to the cancellation, as quoted by the Associated Press.