Trans firefighter serving as grand marshal for NYC Pride March shares moving story on FDNY Instagram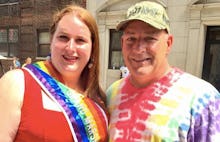 On the Sunday of Pride March, the annual parade in New York celebrating the triumphs of LGBTQ people, the Fire Department of New York took to Instagram to post a powerful message from Brooke Guinan, a 29-year old trans firefighter and LGBTQ outreach coordinator for the FDNY who is one of four grand marshals for the parade.
In her message, Guinan opens up about her struggles as a trans woman and why being chosen as a grand marshal for the parade is such an honor.
"As a trans woman, it was a supremely difficult experience trying to find safe spaces, acceptance and love in society, but by being honest about my experiences I hope that others can learn from the paths that I have navigated," Guinan said. "Being a grand marshal is beyond anything that I have ever thought of and I feel very much that I owe the honor to those LGBTQ heroes who have inspired me and helped me to find my own voice."
Guinan, a third-generation firefighter, is photographed with her father, FDNY Lt. George Guinan. According to the Village Voice, she made history by becoming the first openly trans firefighter in the FDNY.
Guinan is one of four grand marshals of the 2017 NYC Pride March. She is joined by Krishna Stone, director of community relations at Gay Men's Health Crisis; Geng Le, an activist for LGBTQ rights in China; and the American Civil Liberties Union, which has represented the rights of LGBTQ Americans before the Supreme Court.