Protesters reportedly arrested near NYC's Stonewall Inn, Pride March endpoint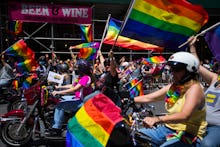 According to multiple accounts from the scene, protesters were arrested near the historic Stonewall Inn, the endpoint of Sunday's Pride March for LGBTQ people in New York City.
The reason for the arrests were not immediately known, though BuzzFeed reported the arrest came after protesters formed a human chain to block the march.
Many maintain that the modern gay rights movement began at Stonewall Inn in June 1969, when police and LGBTQ people clashed at the gay bar in the New York City neighborhood of Greenwich Village.
New York City's Pride is celebrated on a Sunday in June to commemorate these riots, which are sometimes referred to as the Stonewall Uprising.
The NYPD 6th Precinct could not be reached for comment.
June 25, 2017, 3:56 p.m.: This story has been updated.