Steam Summer Sale Day 4 Deals 2017: Five of the best games worth buying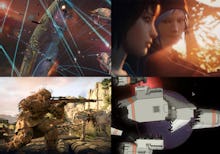 The fourth day of Steam's summer sale is here, and there are some great titles just waiting for you to snag them up on the cheap. We've covered some of the best AAA and indie games that have been available so far, and now we're bringing you the best games to purchase on day four of the sale. Below are our top five picks for the best games you can get at the Steam summer sale today.
If you're a fan of Baldur's Gate, Planescape: Torment, and other computer RPGs, Divinity: Original Sin is that same classic formula brought up to modern standards. For those who have never played a true cRPG though, be warned. Divinity: Original Sin has a ton of great content, but you have to work for it. Once you get the hang of the complex combat and the isometric viewpoint, you'll find yourself enjoying one of the best RPGs of the decade.
Sniper Elite 4 is the latest game in the series, but I found Sniper Elite 3's North Africa to be a more interesting environment than Italy. Sniper Elite 3 puts you in the shoes of an Office of Strategic Services sniper during Germany's Afrika Korps campaign in mid-1942. In contrast to most shooters, Sniper Elite 3 isn't about spraying bullets. Instead, you're encouraged to watch, listen and wait for the perfect opportunity to fire one perfect shot into your enemy. With realistic bullet physics and stealth gameplay, Sniper Elite 3 is a unique take on the genre.
Homeworld is one of the greatest 3D real-time strategy games of all time, and it was recently revived and updated in the Homeworld Remastered Collection. Not only has the game been updated to run on modern PCs, but it's also had the graphics and textures updated to look much better. Homeworld 2 is also included in the Homeworld Remastered Collection, but many find it lacking compared to the first. This collection also has Workshop support, which makes it much easier to change your fleets into ships from Star Trek, Star Wars and a ton of other sci-fi series from within the Steam client itself.
This adventure game takes you on a roller coaster ride as you play teen Max Caufield as she becomes embroiled in a plot filled with murder, time travel and the hardships of growing into an adult. Life is Strange gives Telltale's best a run for its money, and now is a great time to purchase it so you can be ready for the upcoming prequel, Life is Strange: Before the Storm.
If you love sci-fi and challenging video games, FTL was made for you. This game plays out a lot like a roguelike with death coming often. As you play, you'll gain access to more ships, with more space for weapons, compartments and better crew. However, when you die, the only thing you can take with you is any unlocks and the knowledge you gained in your journey. Expect to play tens of hours before you beat the game on "easy" mode, but know that when you do, you'll feel an overwhelming sense of accomplishment.
More gaming news and updates
Check out the latest from Mic, like this essay about the sinister, subtle evils lurking in rural America that Far Cry 5 shouldn't ignore. Also, be sure to read our review of Tekken 7, an article about D.Va's influence on one Overwatch player's ideas about femininity and an analysis of gaming's racist habit of darkening villains' skin tones.