Nintendo Switch 4K: Why Reggie Fils-Aimé doesn't think higher resolution is an important concern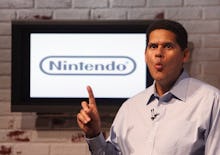 For some video game fans, 4K graphics are the way to go. There's no reason to play the blockbuster game releases if they don't look as realistic as possible or as clear as modern technology can take them. That isn't always the case with Nintendo fans, who have flocked to the company and its massively popular releases with little regard for how crisp Link looks in The Legend of Zelda: Breath of the Wild or how Mario's red hat pops. Nintendo isn't very concerned with 4K in terms of gaming, and recently the Verge spoke to Nintendo of America president Reggie Fils-Aimé, who ran down exactly why this is and has been for some time.
Nintendo Switch 4K: Why the company isn't interested in going as high-definition as possible
When speaking to the Verge, Fils-Aimé stated that the "Nintendo mission is to reach as many consumers as possible and to have the engage and have fun," so the idea is for them to target a more mainstream audience. Obviously a mainstream audience, if you think about it, means the average gamer. It may not be immediately evident, but not every household is equipped or outfitted with the best and the most up-to-date AV equipment to support 4K or even take advantage of it. That creates a barrier for gamers who can't or don't want to spend hundreds or thousands of dollars on new TVs or other items to enable them to use the full capabilities of 4K consoles.
"Inherently, we want our products to be affordable," Fils-Aimé continued. "We want our products to be easy to pick up and experience, low learning curve." Sticking to a path that allows as many gamers as possible to jump on the Nintendo bandwagon is a strategy that seems to have worked for the company over the past few years, even as critics continually question why Nintendo isn't interested in playing with the "big dogs" as far as tech goes.
"Going against a more limited consumer pool, a higher price point, requiring investments in other ways — 4K TVs, what have you — that is a strategy that for us, candidly, is a bit too limited." Case in point: The Nintendo Switch doesn't even require a television to enjoy, and there are several versions of the Nintendo 3DS and Nintendo 2DS to choose from, all more affordable than the current options from the competition out there. Plus, you've got iconic Nintendo franchises all in one place. It's a path that Nintendo has walked down for a very long time, and likely one it's not going to stray from.
Nintendo and 4K: Doing things differently
Staying in its current lane regarding graphical power and hardware isn't the only thing Fils-Aimé has spoken on, as Nintendo's approach to both sports and online gaming service will be different from what the competition has tried in the past.
"I think what Nintendo is doing, as we always do, is our unique view on this, and finding ways to make it a bit more mainstream and a bit more massive, maybe than others have done. We're going to do it differently," said Fils-Aimé on the topic of bringing esports to mainstream audiences by way of Arms, a newcomer to the competitive gaming arena. "We think that Arms can support a very vibrant community. We've certainly seen this with Splatoon in the past few months and especially during its initial debut."
The company is also looking to introduce a paid online subscription service in the near future, which has been a hot topic for Switch owners and pundits. Fils-Aimé spoke briefly on why the decision was made to delay the full $20 service, which ultimately comes down to the fact that Nintendo wanted to wait until they have everything they want to offer in place first before launching, and with the $20 price tag in mind, Fils-Aimé wants fan to think the service is absolutely necessary.
More Nintendo Switch news and coverage
Looking for more Nintendo Switch news? Check out how blind gamers are using the Nintendo Switch. Nintendo's left Joy-Con issue turns out to be a hardware problem — here's how to solve it. Find out how to buy a console amidst the recent restock. Learn why the Switch cartridges taste so bad. Check out our comparison photos sizing up the Switch to the Wii U GamePad (part one and part two), or find out how to make use of ethernet without the dock and the best way to get alerts when new stock arrives.