8 of the biggest moments from the 48th NYC LGBTQ Pride March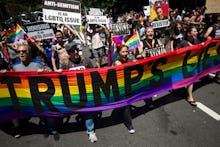 Tens of thousands jubilant marchers and an even greater number of onlookers took to the streets of New York Sunday for the 48th NYC LGBTQ Pride March, celebrating their identities and protesting attacks on LGBTQ rights.
Here are eight of the biggest moments from Sunday's festivities, the largest LBGTQ pride march in the world.
Newly released Chelsea Manning makes triumphant appearance
Manning, a trans woman who was convicted of leaking government records to whistle-blowing website Wikileaks, repped the ACLU while driving through the march in a red car.
Police bus drives in front of Stonewall Inn after protesters block #NYPDoutandproud procession
Demonstrators against police involvement in the parade took to the roads near the Stonewall Inn, the site of the historic protest which launched the modern LGBTQ rights movement. The NYPD reportedly made at least 12 arrests.
Later Mic saw an NYPD police bus, the kind often used to transport a large numbers of arrestees from protests, passing directly in front of the historic bar — a somewhat surreal commentary on the state of things in 1969 vs. 2017.
Marchers from every array of life hit the streets of NYC
Though Pride events have increasingly been flooded with corporate sponsors, groups representing LGBTQ blacks, Asians, Muslims, Afro-Caribbeans and other communities all made appearances — sometimes in fantastic costume or waving foreign flags.
New York politicians support the LGBTQ community — and get in their photo ops
New York politicians including Gov. Andrew Cuomo, former New York Sen. Hillary Clinton, Sen. Kirsten Gillibrand, New York State Attorney General Eric Schneiderman and, of course, Mayor Bill De Blasio all attended the event to stand with LGBTQ New Yorkers against decades of oppression and unfair treatment.
Celebrities make an appearance, too
Spotted: Numerous celebrities who are either LGBTQ themselves or became stars in part due to the support of their LGBTQ fans, including RuPaul's Drag Race winner Sasha Velour, comedians Ilana and Eliot Glazer and Orange Is the New Black's Lori Tan Chinn.
Also, the Babadook
While the recent spread of memes featuring the titular monster of the 2014 horror movie The Babadook as a gay symbol seemed to have burned out by the time of the Pride event, one Twitter users spotted a Pride marcher wearing a Babadook mask around 38th Street.
Pride marchers denounce President Donald Trump
Some marchers carried banners and shouted slogans denouncing President Donald Trump, his administration and allied politicians. They accused Speaker of the House Paul Ryan of callously disregarding the LGBTQ community and supporting policies that would hurt marginalized communities.
One group touting a banner that said "Resistance" sang "Olé, olé, olé! Fuck Trump! Fuck Trump!" as they marched down the street.
Finally, this awesome gay weed legalization cart
Near the tail end of the parade, a perfect capstone: This bicycle-driven cart covered in weed symbols carried an elderly woman puffing on a massive fake blunt. Rad.