Ohio Gov. John Kasich's website hacked with pro-ISIS propaganda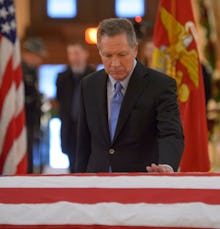 Ohio Gov. John Kasich's became one of several government officials to be hit with a cyberattack on Sunday after his government website was commandeered by messages claiming support for the militant group the Islamic State.
According to the Associated Press, Kasich, a Republican, wasn't the only Ohio government official subject to a pro-ISIS attack: the state's first lady Karen Kasich, the Ohio Department of Rehabilitation and Corrections, the Department of Medicaid, and Casino Control Commission were also affected.
"You will be held accountable Trump, you and all your people for every drop of blood flowing from Muslim countries," read the message on Kasich's website, in part, accompanied by the unsubtle declaration, "I love Islamic state."
The same message also appeared on the official government websites for Brookhaven, New York, and Howard County, Maryland, according to reports from those states.
In a Sunday tweet, Ohio treasurer and Republican candidate for U.S. Senate Josh Mandel condemned the attack.
"Ohio Dept. of Corrections website right now, this is what you see. Wake up freedom-loving Americans. Radical Islam infiltrating the heartland," he wrote.
The AP reported that the hacked websites included a calling card of sorts, attributing the hack to a group called Team System Dz, which has reportedly been linked to several worldwide hacks in the past several years.
Tom Hoyt, chief communications officer for Ohio's Department of Administrative Services, confirmed the hack.
"All affected servers have been taken offline and we are investigating how these hackers were able to deface these websites," he said. "We also are working with law enforcement to better understand what happened."