Dozens missing after tourist boat carrying more than 160 passengers sinks in Colombia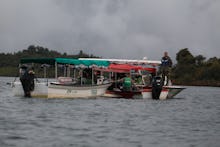 At least six people are dead and dozens more missing after a tourist boat carrying more than 160 passengers sank into a reservoir near Medellin, Colombia, on Sunday, BuzzFeed reported.
Video captured at the scene shows the multi-story ferry taking on water quickly as passengers congregate on the top floor.
In a press conference on Sunday, Colombian President Juan Manuel Santos confirmed the number of dead and said that 122 people had been pulled from the water in the wake of the accident.
"Nobody really knows what happened," he said, according to BuzzFeed.
Firefighters, divers and Colombian air force troops continued the search for survivors into Monday morning.
While it was not immediately clear what caused the ferry to sink, survivors told local media that the vessel seemed overcrowded and that many of the passengers had not strapped on their life vests.
"It sank extremely quickly. It all happened in a few minutes," Luis Bernardo Morales, a fire service captain who helped run the rescue operation, told BuzzFeed.
"What we have seen in the videos is that the boat was very close to the port, and we do not know whether it was a mechanical failure, an overloading or something to do with the currents that caused it to sink," he added.
Federico Gutierrez, the mayor of Medellin told the Associated Press, "The most important thing right now is to save lives," according to Buzzfeed.