Canadian Prime Minister Justin Trudeau marched in Toronto's pride parade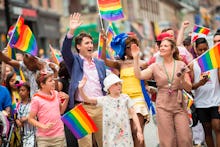 In the midst of extravagant floats and rainbow flags, Toronto's pride march featured an appearance from a special guest: Canada's very own Prime Minister Justin Trudeau.
Trudeau kicked off the country's largest pride parade on Sunday, leading a crew of marchers through the city's streets.
With a rainbow maple leaf tattooed onto his face, the prime minister spent his day advocating for inclusivity and meeting with parade-goers throughout Toronto. Here are some photos that prove Trudeau truly lived his best life at Pride 2017.
Trudeau commenced Toronto Pride by introducing the theme of this year's march: inclusivity. "It's all about how we celebrate the multiple layers of identities that make Canada extraordinary and strong, and today we celebrate with the entire LGBTQ community," he said.
Joining the prime minister at Canada's largest pride parade were his wife, Sophie Grégoire Trudeau, and two of their children, Xavier and Ella-Grace.
In addition to celebrating pride, Trudeau and his keen fashion sense recognized Muslim holiday Eid al-Fitr with a pair of Ramadan-themed socks.
The Prime Minister even took the time to personally greet members of the crowd.
Trudeau made sure to spend some time with the little ones, too.
This isn't Trudeau's first time marching in Toronto Pride. He's been participating in various pride celebrations around Canada since at least 2013, long before he was Prime Minister.
Trudeau even took to Twitter himself to remind his followers of a simple sentiment: "Love is love."
Meanwhile, President Donald Trump has yet to declare June Pride Month, and instead spent Sunday tweeting about Hillary Clinton and Bernie Sanders.
See you next year, Justin!