What T.J. Miller's exit means for the future of 'Silicon Valley'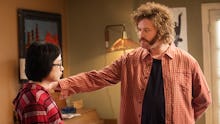 Silicon Valley fans faced some sad news in May when it was announced that T.J. Miller would be leaving HBO comedy at the end of season four.
"The producers of Silicon Valley and T.J. Miller have mutually agreed that T.J. will not return for season five," HBO said in a statement about Miller's departure from the series.
On Sunday, season four of Silicon Valley came to an end. In the season finale, fans said goodbye to the actor's character, Erlich, after he was left in an opium den in Tibet by Gavin, who paid a man money to keep him there until he heard otherwise.
Now, the show's creator, Mike Judge, is speaking out on writing Miller's character out of the series and what the plans are for the fifth season.
In an interview with Entertainment Weekly, Judge explained that initially, Erlich's season four ending was supposed to be a cliffhanger for the character. Judge made it his exit when it became clear Miller's time on the series had come to an end.
"We were looking at it like, '[Let's] make it so it's an option either way. If he wanted to come back, he can,'" Judge said. "Because that character is not a programmer, really — we had him program a little bit — and he's not part of the company, a lot of times it's hard to work that character into the stories."
Judge also admitted that he was in denial about Miller leaving the show. He assumed he would return next season for a handful of episodes. "But we didn't know for sure that that was the last one. If we absolutely knew for sure that that was his last scene, it would have been more sad. We knew it could be, but that's a little different than knowing that it is," he said.
Judge hopes that Erlich being gone breathes a new kind of life into the show and reinvigorates it.
I mean, we've had them in the same dynamic and same house, and It forces us to come up with new dynamics and new ideas. We have some really great actors, great performers, great writers, I think we'll make it work. If you look back, the show's better with him, of course. Looking forward, it'll force us to get more creative, and it could give us a second wind even, I would hope.
But that doesn't mean that there is no chance for Miller to reprise his role. In an interview with the Hollywood Reporter, Judge said the door is open for Miller to return but he's not sure when or if it will happen. "That I don't know for sure, but that's probably the last [you'll see him]. Down the road, if there's a season six, I don't know. You never know. But that's the last for a while at least," he said.
Now with an open space in the cast, Judge has to start thinking about how to replace Erlich. The show represents the male-dominated world of tech, so Judge is interested in a female character joining the cast. "There are all kinds of ways to go with it, but it probably would be a good opportunity to get another female character into this. It's been very dude-heavy," he told EW.
Looking forward, Judge doesn't see the series lasting more than six seasons. He fears running the series into the ground and would rather end it on a high note. "It'd be nice to not unnaturally push it to go longer than it feels like it ought to. But I think two more seasons, we have it in us," he said.
Mic has ongoing TV coverage. Please follow our main TV hub here.