NYC Pride 2017: From feathers to glitter to rainbows, here are the pride looks you need to see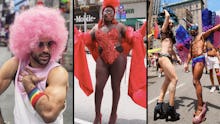 With a new president and administration that's not wholly supportive of equal rights for LGBTQ people across the world, we had a feeling that New York City Pride — celebrating its 48th year — was going to feel more important and pressing than ever before. We also imagined people would want to show — and show off too. And boy, were we right.
This year, the streets of downtown New York City were swarmed with people in flashy rainbows, feathers, glitter and, yes, even Babadook costumes.
There were kids like this:
And dogs like this:
Here are just some of the best looks from NYC Pride we've seen thus far: