JK Rowling tweets an emotional thank you on the 20th anniversary of the first 'Harry Potter' book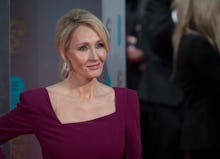 Monday marked 20 years since Harry Potter and the Philosopher's Stone, later renamed Harry Potter and the Sorcerer's Stone in the United States, was first published on June 26, 1997. To mark the date, Harry Potter author J.K. Rowling tweeted an emotional message to her readers.
"20 years ago today, a world that I had lived in alone was suddenly open to others," Rowling wrote. "It's been wonderful. Thank you."
Rowling wasn't the only one celebrating the quiet beginnings of what would become a global sensation, spawning movies, spinoffs and theme parks. Others weighed in on Twitter, including actor Kumail Nanjiani, who tweeted his own "thank you" message to Rowling.
Countless fans tweeted messages about how much the series meant to them.
The London cast of Harry Potter and the Cursed Child celebrated by posting a cast photo.
The New York Times acknowledged the anniversary by sharing a critic's 1999 review of the first Harry Potter book, a glowing piece that called the book "full of wonderful, sly humor" and the characters "impressively three-dimensional."
Twenty years after its publication, the Harry Potter books have sold a combined 450 million copies, as CNN reported Monday, and have been translated into over 60 languages. But as Rowling reminded the world Monday, Harry Potter was once a world that only existed for one person — her.