'Pokémon Go' Raid Level: When can levels 20 and below get free raid passes and join co-op battles?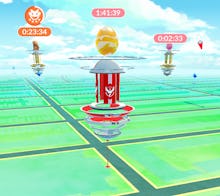 Pokémon Go raids are here, but not for everyone. Like age gates on websites or height restrictions on rides, Pokémon Go has served a big "nope" to anyone looking to join raid battles at a low level. Veteran players can partake in raids in which they can score rare finds like Tyranitar, Charizard or even the shiny Magikarp.
So, when can lower-level PoGo players join in the fun?
Pokémon Go raid battles: When can levels 20 and below join group battles?
When Niantic initially released raids to the world, only those above level 35 could join in the fun. Pokémon Go creators later lowered the barrier to entry to level 31, then level 28, 25 and most recently level 20 However, Niantic seemed to stop there. What gives?
The question remains: When can gamers at levels 20 and below take part in Pokémon Go raids? We've reached out to Niantic and a spokesperson with the company had this to say:
"Keep an eye on the official Pokémon Go Twitter account as that's where the team will be updating on new levels that can participate in the Raid Battles."
It's likely that Niantic wants to make raids available to a fraction of Pokémon Go players in an effort to make sure the system works properly. By only letting a smaller group of users play, it may give the company time to properly prep for allowing all trainers to participate.
Pokémon Go raid battles: How to get notified when level 20 and below can do raids
Niantic is clearly holding back precious info from lower-level players, but there's hope. Those interested in joining Pokémon Go raids can look for updates on Niantic's official website and Twitter accounts. Just keep your fingers crossed that level-24 raids come before legendaries do.
June 26, 2017, 1:35 p.m. ET: This story has been updated
Check out more Pokémon Go news and coverage
Raids are here! See why they may be the key to legendary Pokémon. Find out how to determine how long it will take you to reach level 40, and see what we think of the Gen 2 Pokémon added to the game. Here are the kinds of Pokémon you get from 10-kilometer eggs, and here's where you can check out what you missed during the Water Festival and Solstice events. Find out more about the upcoming Chicago event and why you'll probably be able to catch Unown while you're there — if you're not busy searching for rare evolutionary items, that is.