'Final Fantasy 15' Update 1.12: Patch adds off-road Regalia Type-D, preparations for Episode Prompto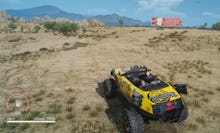 The newest Final Fantasy 15 update — version 1.12 — is available now. It's added a brand-new mod for the Regalia that lets you hop the highway guard rails and drive entirely off road.
Here's a GIF of the suped-up Regalia Type-D in all its beefy glory, courtesy of NeoGAF user SunhiLegend:
If you want to equip this new modification, you can do so at the garage in Hammerhead.
The new patch also includes a handful of bug fixes and a compatibility update in anticipation of Tuesday's release of the new DLC, Episode Prompto.
The full patch notes for version 1.12 — which, according to Reddit user fotmhero, will take up 8.65 gigabytes — are embedded below.
Final Fantasy 15 update 1.12 patch notes
• Implementation of Regalia Type-D off-road customization option (available at Hammerhead)
More gaming news and updates
Check out the latest from Mic, like this essay about the sinister, subtle evils lurking in rural America that Far Cry 5 shouldn't ignore. Also, be sure to read our review of Tekken 7, an article about D.Va's influence on one Overwatch player's ideas about femininity and an analysis of gaming's racist habit of darkening villains' skin tones.