'Spider-Man' PS4 Game: Insomniac's story features "mature" Peter Parker, isn't an origin story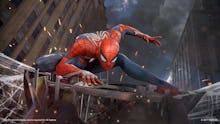 Insomniac's PS4-exclusive Spider-Man game definitely stole the show at E3 2017. Its colorful, acrobatic action and no-killing philosophy stood out out among the bevy of brown, depressing shooters you normally see at E3.
In the latest episode of Kotaku's Splitscreen podcast, Jason Schreier interviewed Insomniac founder Ted Price about the game. It's an interesting interview for a number of reasons, but one of the most noteworthy exchanges touched on the treatment of Peter Parker.
Spider-Man PS4 is not an origin story
There have been three cinematic interpretations of Peter Parker since 2002. Fans got laborious origin stories with both Tobey Maguire and Andrew Garfield, with Tom Holland getting the quick and dirty introduction treatment in Captain America: Civil War.
Needless to say, we're all familiar with how the webslinger came to be — Uncle Ben, radioactive spider, all that fun stuff. Thankfully, Insomniac recognized that and is giving us a 23-year-old, more seasoned version of the character than we usually get.
Another tidbit from Price's interview is that Marvel actually approached Insomniac with a general offer to make a game with the Marvel character of their choosing. Ultimately, Insomniac chose the Spider-Man character because he fits the studio's philosophy.
"Spider-Man is a versatile character. He's a very human character," Price told Schreier. "His attitude reflects what we believe at Insomniac: Be the good guy. You're always struggling to make the right choice, but in the end, you have to make the right choice."
Price also went into how unusual it is for Insomniac, known for original characters like Spyro and Ratchet, to make a game with someone else's creation. The podcast is worth a listen if you're at all interested in the upcoming open-world superhero romp.
More news from Sony PlayStation E3 2017
Check out more of our coverage from the PlayStation E3 2017 press conference, including the sweeping new Shadow of the Colossus remake, gameplay for Days Gone and a look at Monster Hunter Worlds. Don't miss the breathtaking cinematics from God of War 4 and Detroit, as well as the show-stealing Spider-Man game.