Theresa May announces pact with Northern Ireland's conservative DUP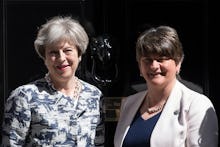 United Kingdom Prime Minister Theresa May announced a pact with the Democratic Unionist Party on Monday that will see the Northern Irish party side with the embattled Tories on key votes, the BBC reported.
With her own party in the minority after a devastating June 8 snap election ended in a hung Parliament, May has been forced to rally other conservative factions to her side in an effort to maintain power in the coming weeks. With the Democratic Unionists — also known as the DUP — May has established what's known as a confidence and supply agreement, where 10 Northern Irish MPs will vote alongside May's party in exchange for more than $1 billion of funds.
DUP leader Arlene Foster said outside Downing Street on Monday that she considers the deal one that is "good for the U.K., for Northern Ireland and allows our nation to move forward," according to the BBC.
Echoing Foster's words, May said that she also welcomes the agreement, which she said, "will enable us to work together in the interest of the whole United Kingdom, give us the certainty we require as we embark on our departure from the European Union."
The deal comes just in the nick of time for May, who will soon put her Brexit-heavy queen's speech to a vote in parliament and will need the DUP's added support if there is to be any hope of passing the legislation without a Conservative majority.
While talks with the DUP have been in the works for several weeks and the deal comes as no surprise, many have criticized the move in light of the DUP's socially conservative positions, which have included being anti-gay marriage and anti-abortion rights.
Jeremy Corbyn — leader of the U.K.'s Labour Party — criticized the deal with the DUP, which he said amounted to nothing more than a desperate power grab by May.
"This Tory-DUP deal is clearly not in the national interest but in May's party's interest to help her cling to power," he said, according to the BBC.