'Pokémon Go' Raid Pass Free vs. Premium: How to get the two differences passes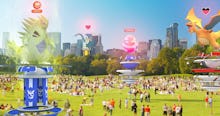 There's plenty to keep you interested in Pokémon Go this summer. Though the fire and ice solstice event ended recently, the gym update is complete and raids are live. Although very much a work in progress, raid battles could mean some exciting changes to the world of Pokémon Go once Niantic irons out the new feature.
However, you'll need a Pokémon Go raid pass to get started. If you're unsure what that means, we break it down for you below.
How to get a raid pass in Pokémon Go: There are two ways to do it
According to Pokémon Go Hub, raid passes come in two flavors: free or premium. Both allow you to compete in a single raid upon redemption, and both disappear after one use. This means that even if you don't beat the raid, your pass is still gone.
Free passes don't cost any PokéCoins, and trainers can get one per day by spinning a gym's photo disc. Unfortunately, you can only hold one free raid pass at a time.
Premium passes cost 100 Pokécoins at the shop, but won't appear there until you're "eligible" for raids, according to players on the Silph Road subreddit. In spite of this, premium passes are the superior option since you can buy and hold more than one of them at a time. However, this is a disadvantage for players opposed to spending some real cash for content.
You can currently collect a free raid pass from any gym regardless of your level, according to Pokémon Go Hub. But if you're level 25 or higher, you'll be able to redeem PokéCoins for a premium raid pass. Niantic has also been lowering the raid level requirements pretty rapidly, which we hope will continue. Expect premium raid passes to show up in your PokéShops soon — just don't spend too much on them, all right?
More Pokémon Go news, updates, tips and tricks
Raids are here! See why they may be the key to legendary Pokémon. Find out how to determine how long it will take you to reach level 40, and see what we think of the Gen 2 Pokémon added to the game. Here are the kinds of Pokémon you get from 10-kilometer eggs, and here's where you can check out what you missed during the Water Festival and Solstice events. Find out more about the upcoming Chicago event and why you'll probably be able to catch Unown while you're there — if you're not busy searching for rare evolutionary items, that is.