Supreme Court will hear case of baker who refused service to gay couples on religious grounds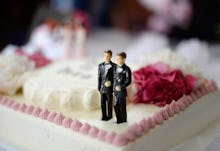 The United States Supreme Court announced on Monday that it will take on the case of whether a Colorado baker can legally refuse to serve same-sex couples on religious grounds, the Associated Press reported.
The court will not hear the case until after its next term begins, in October. The case will likely serve as a landmark decision regarding the rights of private businesses to refuse to provide services for same-sex weddings, Politico reported on Monday.
The case involves the owner of Colorado bakery Masterpiece Cakeshop, Jack Phillips, who says his free-speech rights and freedom of religion were violated when he was found to have broken a Colorado anti-discrimination law by refusing to bake a cake for a gay couple in 2012.
In 2014, Phillips said he didn't "want to be forced to participate in a same-sex wedding," the HuffPost reported at the time. "I don't feel that I should participate in their wedding, and when I do a cake, I feel like I'm participating in the ceremony, or the event, or the celebration that the cake is for," Phillips added.
In a statement on Monday, the American Civil Liberties Union, which is representing David Mullins and Charlie Craig, the couple in question, said that the case hinges on the equality of LGBTQ people.
"The law is squarely on David and Charlie's side because when businesses are open to the public, they're supposed to be open to everyone," James Esseks, director of the ACLU's LGBT Project, said in the statement.
"While the right to one's religious beliefs is fundamental, a license to discriminate is not. Same-sex couples like David and Charlie deserve to be treated with the same dignity and respect as anyone else, and we're ready to take that fight all the way to the Supreme Court."