Ivanka Trump, first daughter and adviser to the president: "I try to stay out of politics"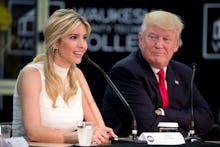 Ivanka Trump told Fox and Friends in an interview published Monday that politics is not her forte, and that she tries to stay out of it when possible.
"I try to stay out of politics," she said. "I don't profess to be a political savant … I instead like to focus on areas where I can add positive value, where I can contribute to the agenda."
Trump is the daughter of President Donald J. Trump, and served as a surrogate for her father during his presidential campaign. In March, she took a White House job as one of his advisers.
Trump regularly meets with lawmakers and foreign dignitaries, and helps shape policy for her father's administration. She is currently trying to push a paid family leave proposal through Congress, albeit with little success.
Simply put, politics is Ivanka Trump's job. So much so that she is recognized as the most popular White House staffer among registered voters, according to an April poll by Morning Consult and Politico — despite having helped bring a deeply unpopular president to power.
And it's a role she might want to embrace more fully, considering the troubles surrounding her clothing and lifestyle brand. On Monday, a district judge in New York ordered Trump to testify in a lawsuit claiming that her company stole a design from an Italian shoemaker, the Mercury News reports.