South Carolina woman faces charges for ripping Confederate battle flag off driver's truck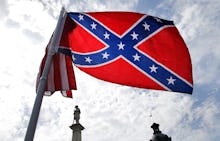 On Saturday, a Charleston, South Carolina, woman ripped a Confederate battle flag "tag" off of a truck and backed into the truck's owner, the Root reported. She now faces charges of vandalism and leaving the scene of an accident with injuries.
Ann Lee Walters, 43, stopped her car while in Downtown Charleston and removed a Confederate symbol from the truck behind her. While the truck's owner was trying to get her license plate number, she reportedly backed into him, causing minor knee injuries. According to WCBD, the man believes that was not intentional.
Walters joins the ranks of others who have taken down publicly displayed symbols of the Confederacy. In 2015, Facebook user Jamari Williams started a viral trend after posting a video of a man snagging a Confederate flag from the side of a home. Other social media users followed suit to take part in the "no flagging challenge."
Some removed tags from vehicles in the middle of highways:
Others snagged flags from truck beds at stoplights:
Bree Newsome is also among those that accepted the challenge. In June 2015, Newsome scaled the flagpole in front of the Statehouse in Columbia, South Carolina, and took down a Confederate battle flag flying in front of the building.
Newsome, who said the symbol represents "racial intimidation and fear," was arrested and charged with defacing monuments on capitol grounds, but was later released after receiving aid from supporters.