Surprise! You might be owed money. How to get cash back from class-action lawsuit settlements.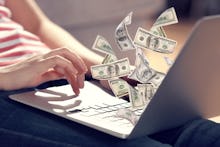 Looking for a way to make money fast or mindlessly? Great news: You might already be owed some unexpected dough that you just didn't know about — thanks to a settlement from a class-action lawsuit. What's that?
A class-action lawsuit is a type of civil lawsuit in which many people who were harmed come together to pursue a legal claim against the person or company responsible for hurting them. Class-action lawsuits are common in cases of defective products and can also be useful when a group of employees faces employment discrimination. They can help you get back money you're owed — whether pennies or thousands of dollars — that would have been challenging to fight for all on your own.
"Class actions are vital to our legal system, as there are many meritorious claims that simply cannot be pursued due to the high cost of litigation," R. Shannon Carpenter, a personal injury lawyer at Sammons & Carpenter law firm in Atlanta, said in a phone interview.
You may be familiar with class-action lawsuits if you've received letters in the mail inviting you to join a class of plaintiffs or if you've seen movies like Erin Brockovich, in which a town full of people exposed to contaminated groundwater sued the company at fault. Maybe you suspect you might be owed money — but aren't sure? Chances are, something you bought in the past might qualify you.
First check out helpful landing pages like this one or this one to look through recent settlements with payouts from companies — including household names like Wells Fargo, Amazon, Staples and The Body Shop — and file a claim if you qualify. A writer for Complex says he racked up about $280 this way, just by glancing at the updates and filing claims every now and then.
If you need more guidance, read on: Here's how these lawsuits work and how you can use them to protect your rights and get cash you're owed.
1. Class actions let you pursue claims you otherwise couldn't afford.
Products don't always turn out to be worth the hype. Early iPods that came with underperforming batteries are one example. iPod buyers spent a few hundred dollars on those devices — enough money for the defect to be really annoying, but not enough of a financial loss for every person who'd been misled on the product's battery life to file a lawsuit.
That's where class actions come in. "If there are enough similar claims, class actions allow the individuals with the claims to join together into one single lawsuit in order to help cover the cost of litigation and make claims economically feasible to pursue," Carpenter said.
In the case of the Apple battery problems, for example, owners of first-, second- and third-generation iPods came together in a class action. Depending on the age of their device, plaintiffs ended up with remedies like store credits, discounted battery replacement and extended warranties, Macworld reported.
While it's unlikely any individual would have sued for these remedies, the fact that plaintiffs could join together in a class action gave them a chance to hold Apple accountable. "Without class actions, these claims simply could not be pursued," Carpenter said.
2. The courts have been making it harder to bring class actions.
Although class actions are an important consumer protection tool, courts have been chipping away at class-action rights. In 2011's AT&T Mobility v. Concepcion, the Supreme Court voted 5-4 to substantially limit class actions. In that case, a couple brought suit against AT&T Mobility for allegedly charging $30.22 in sales tax for what it had advertised as a "free phone." AT&T's contract mandated arbitration as a legal remedy, eliminating class actions as a means of seeking relief.
Because California law prevented class-action waivers in one-sided contracts where consumers have no bargaining power, the U.S. Court of Appeals upheld the plaintiffs' right to sue in court. However, the Supreme Court said "states cannot enforce such exceptions to federal law favoring arbitration provisions," as USA Today reported at the time.
Individual consumers weren't going to arbitrate over $30.22, so AT&T was off the hook — and going forward, consumers had fewer rights. "If you take a job at a fast-food restaurant or a big-box retailer, if you sign up for a credit card or a cell phone, chances are you're going to be signing away your right to bring a class action," Public Citizen's Deepak Gupta, who argued the case against AT&T, told NPR after the decision.
In a very recent case, the Supreme Court held that plaintiffs' lawyers in class-action cases couldn't bring lawsuits in states with more favorable laws if the victims didn't have sufficient connections with the state. Though it's common for class actions to include plaintiffs nationwide, this may no longer be an option: "The majority's rule will make it difficult to aggregate the claims of plaintiffs across the country whose claims may be worth little alone," Justice Sonia Sotomayor explained in her dissent. "It will make it impossible to bring a nationwide mass action in state court against defendants who are 'at home' in different states."
3. Joining a class-action lawsuit has some strings attached.
Despite such limitations, class actions can still be filed to help plaintiffs pursue remedies for different wrongs. "Courts have certified class actions in a wide variety of civil lawsuits, and they are common in consumer disputes, such as broker or securities fraud, false advertising claims, debt collection practices and other violations of state or federal consumer protection statutes," Justia, an online platform that provides free legal information to the public, explained.
If you're a potential member of a class of plaintiffs who suffered some type of damage, you can choose to become a member of a class. If you do, you'll waive any other remedies associated with the claims contained in the class-action lawsuit.
You could also opt out and decline to be a member of the class. While you wouldn't benefit from any negotiated settlement or court decisions in favor of the class, you'd maintain your independent right to pursue a claim on your own for compensation.
If you think there may be a substantial amount of money at stake, you may not want to become part of a class of plaintiffs and give up control over your case — but if you know it's not worth bringing a claim on your own, joining the class may be your only chance to get relief.
4. Here's how to find out if there's a class action you can join.
In most cases, consumers will receive notification of class actions for which they may qualify in the mail. You may also see information in stores alerting you to a class action, in addition to websites linked above, like ClassAction.org.
Some class actions require you to provide specific proof you purchased a product or suffered a particular kind of damage because of a defective item (or drug), employment discrimination or unlawful debt-collection practice. In other cases, you can submit your claim to become a member of the class and simply attest, under penalty of perjury, that you bought or used the product from which the claim arose.
If you think you may have been harmed by a dangerous product, you can visit Consumer Action and check out its database of recently filed class-action claims. If there is no class action filed yet, talk with an attorney about whether you could start a class action to pursue a remedy for yourself and any others who experienced similar damages.
5. Here's what happens if you win.
In many class-action cases, the actual remedies received by individual consumers are fairly small. Between 2010 and 2013, consumer class actions settled for an average of $56.5 million, according to NERA Economic Consulting. However, several large settlements, including a $1.6 billion Toyota settlement in 2013, drove those averages up.
While this may seem like big money, it typically adds up to just a few hundred dollars — or even less — once settlement funds are divided among hundreds of class members. Consider the Toyota settlement: Consumers received cash payouts ranging from $37.50 to $125, according to USA Today.
Still, if you belong to a successful class action, you usually don't have to go to court or do anything more than submit a form to obtain relief. If you're not prepared to bring an individual lawsuit, even a small cash remedy when you've been wronged is better than nothing.
Sign up for the Payoff — your weekly crash course on how to live your best financial life. Additionally, for all your burning money questions, check out Mic's credit, savings, career, investing and health care hubs for more information — that pays off.