'Pokémon Go' Gym Update Coins Per Day: Awarded faster, but lower daily limit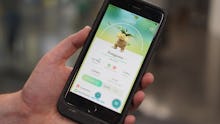 The Pokémon Go gym update changed up a lot about the spoof-heavy and divisive feature. The new gyms have been live for a little under a week, and have already introduced a ton of new mechanics. There's a new limit on the amount of Pokémon that trainers can place in gyms, a motivation mechanic and raids as well.
PokéCoins have also gotten an update, and fans aren't happy about the change.
Pokémon Go gym update: Earn PokéCoins six times faster, but max daily coins has been halved
According to Polygon, fans were unhappy with the rate at which Pokémon gained PokéCoins after the update. It's not hard to see the criticism here — as we previously reported, Pokémon gained coins at a rate of one every hour after gyms came back. You could still earn a max of 100 a day, but you'd have to work for it. Pokémon also only give you the coins they earned once another trainer defeats them.
Niantic has opted to change the system up. A player on the Silph Road subreddit reported that a Pokémon they'd left at a gym had returned with 31 coins. This player noted that this Pokémon had only been at a gym for five and a half hours. Silph Road moderator dronpes confirmed Niantic had increased the rate at which players gain coins.
Although players now receive a coin every 10 minutes, Niantic reduced the max daily amount to 50 per day. Coins are also still linked to the Pokémon, so you won't get the coins until another trainer knocks your Arcanine or Tyranitar out.
Of course, these reduced limits will only affect the absolute strongest players. It's an unfortunate side-effect, but the increased coin gains should be enough to keep players happy. With raids tied to passes, we're going to need all the PokéCoins we can get.
More Pokémon Go news, updates, tips and tricks
Raids are here! See why they may be the key to legendary Pokémon. Find out how to determine how long it will take you to reach level 40, and see what we think of the Gen 2 Pokémon added to the game. Here are the kinds of Pokémon you get from 10-kilometer eggs, and here's where you can check out what you missed during the Water Festival and Solstice events. Find out more about the upcoming Chicago event and why you'll probably be able to catch Unown while you're there — if you're not busy searching for rare evolutionary items, that is.