Will 'Glow' be renewed for season 2? Even the cast doesn't know what's going on.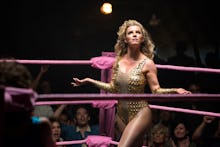 Netflix's new series Glow acquired droves of fans after the streaming service dropped the entire first season on Friday. The show, which is based on a cult classic '80s wrestling series titled Glow: The Gorgeous Ladies of Wrestling, received rave reviews upon its debut, so naturally, fans have been wondering when season two will be announced.
Unfortunately, however, not even the show's stars have been privy to news on a second season yet.
"We don't know," Alison Brie told EW Morning Live. "We really don't know. I think we won't know until … everybody gets a chance to see it."
Meanwhile Marc Maron, who plays Glow's director, Sam Sylvia, is more concerned with the filming location if and when they make season two.
"All I'm hoping is, if it happens, it shoots at the same place," Maron told EW Morning Live.
Maron only lives 10 minutes away from the Atwater studios where the first season was shot, so obviously it's a pretty convenient locale for him.
Brie also appreciates the studios, which were more like just "a handful of stages behind a storage facility and a police station," but for a somewhat different reason. She felt like the basic grunginess of them was probably similar to what the women of Glow experienced.
But that wasn't the only aspect of the show that struck an authentic chord with Brie. In a Q&A at the ATX Television Festival, Brie explained how she's occasionally felt the flagrant sexism of Hollywood that plagues her character Ruth. Brie recounted how she was made to audition for Entourage wearing a bikini top, which harkens back to the beginning of the first episode of Glow in which a casting director tells Ruth she should consider working in porn. Despite that, Brie believes this show and her role in it is one of the few precious exceptions to Hollywood sexism.
"It's shows like these that are waging the war against boring, meek female characters," Brie said. "This show's existence is a step in the right direction."
As far as continuing that step in the right direction, aka a renewal, it looks like the chances are pretty good. According to What's on Netflix, the creators of Glow were already considering the show's future while they were working on season one. Based on that, and the critical response to season one, chances are Netflix won't be long in making the second season announcement.
For those who haven't checked it out yet, here's the nostalgic trailer for Glow.
Mic has ongoing Netflix coverage. Follow our main Netflix hub here.