iOS 11 Beta: Every new feature that'll change how you use your phone, all in one video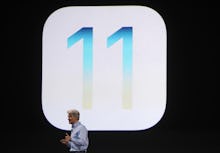 Apple announced iOS 11 — the forthcoming update to the operating system that powers iPhones and iPads — at the Worldwide Developers Conference earlier this June. The tech giant has already started rolling out developer betas, and public betas are "coming soon." According to 9to5Mac, the debut of the second developer beta has uncovered many previously unreported features.
"IOS 11 sets a new standard for what is already the world's most advanced mobile operating system," Apple wrote on its website. "It makes iPhone better than before. It makes iPad more capable than ever."
Here are some of the features you can expect: There are updates to the "Do Not Disturb While Driving" feature. First off, the toggle in the Control Center now works so users can enable and disable it with ease, and the feature is also accessible through "Settings." When the safety feature is enabled, there's no text feedback when using Siri. There's also an "Urgent" feature.
There are other little updates, too. Apple Maps has new flyover features and comes equipped with indoor maps, the Control Center Music widget shows a playback source and screenshots can be shared directly.
Here are some other features you can expect:
• The recents section on the iPad Dock can be removed.
To see everything iOS 11 beta 2 has to offer, check out the video below from 9to5Mac.
The new Apple operating system will be made available for users this fall.