These amazing photos marking the end of Ramadan show how Muslims are celebrating Eid al-Fitr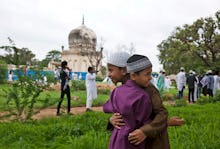 Muslims around the world began celebrating Eid al-Fitr on Sunday to mark the end of Ramadan, the holiest month for those who practice Islam. From India to Egypt to the Ivory Coast, traditions and faith are being celebrated in multiple ways.
Here's a roundup of just a few stunning photos captured across the world.
India
Egypt
Nigeria
The Old City of Jerusalem
Ivory Coast
Yemen
Romania
On Twitter, users celebrated the end of their month-long fast by showing off their Eid al-Fitr looks. Here are a few that caught our eye: