'Harry Potter' Facebook Easter egg celebrates 20th anniversary with colorful posts, status updates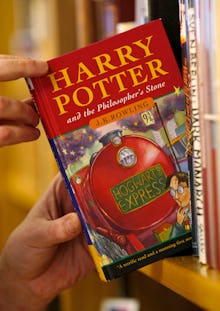 It's been 20 years since J.K. Rowling published Harry Potter and the Philosopher's Stone — the first of seven books that would eventually become a massive global franchise with films and a theme park. To commemorate the 20th anniversary of the series, Facebook has a fun Easter egg for fans to enjoy on the social media platform, Business Insider reports.
How to use the Harry Potter Facebook trick
When Facebook users comment or post one of the four Hogwarts houses — Gryffindor, Hufflepuff, Ravenclaw or Slytherin — the names will appear in different colors. So, for Gryffindor it's red, for Hufflepuff it's yellow, for Ravenclaw it's blue and for Slytherin it's green. The names will also be slightly larger in size and bolded.
Additionally, an animated wand will appear that swivels and shoots out confetti immediately after successfully posting or commenting. To watch the wand move and shoot confetti again, simply click on the house name. The wand's action is consistent regardless of which house you select.
The Easter egg is functional on both desktop and mobile devices, so accio your phone and watch the magic.