'Pokémon Go' Raid Map Locations: Locator site helps you finally snag that Machamp or Tyranitar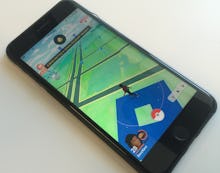 Pokémon Go raids have added a new twist to the real-world adventure game. Instead of waiting for that shiny Magikarp to spawn near you, the game can single out rare Pokémon which you'll be tasked with defeating and then trying to capture.
If you have the latest Pokémon Go update, you may have noticed that some gyms near you now come with countdown timers. You won't be able to see the ones out of range, but what if a gym just out of your reach has a raid with that Lapras or Charizard you've been wanting? Pokémon Go raid locator tools have come to the rescue.
Pokémon Go raid map locations: A Pidgey's-eye view of raids in your area
The in-game view does a fine job of telling you when to expect a raid. However, if you're looking for a broader view, sites like NYCPokéMap let you see places beyond your surrounding neighborhood. You can be in Manhattan, for example, and see what raids are cropping up in Brooklyn and Queens.
Cities like Philadelphia and Toronto have their own maps that show raids by clicking "Raid" in the top left. The family of sites also offers corresponding Twitter accounts with the ability to receive mobile updates whenever a rare Pokémon is available via a raid. PokéHunter gives players the ability to scan for raids, though we found this one less intuitive.
Pokémon Go raid map locations: How reliable are these locator tools?
It's worth mentioning that not every raid in a given area popped up in these Pokémon Go raid map locators, at least in our experience. In one search we ran using NYCPokéMap, the tool properly spotted a Blastoise raid, but missed the Magmar raid happening nearby. The second search we ran correctly showed Charizard, but left out the many raid eggs that had yet to hatch. Our best guess is the maps will only show rare or highly sought-after Pokémon, not crummy ones that no one wants (like Magmar).
Raid locators will likely become much more important once legendary Pokémon finally make their way into the game — assuming Niantic or the Pokémon Company don't shut down these third-party tools down. Just don't blame us if you're out of range when Mewtwo shows up in Pokémon Go.
More Pokémon Go news and coverage
Raids are here! See why they may be the key to legendary Pokémon. Find out how to determine how long it will take you to reach level 40, and see what we think of the Gen 2 Pokémon added to the game. Here are the kinds of Pokémon you get from 10-kilometer eggs, and here's where you can check out what you missed during the Water Festival and Solstice events. Find out more about the upcoming Chicago event and why you'll probably be able to catch Unown while you're there— if you're not busy searching for rare evolutionary items, that is.