Tracee Ellis Ross' style evolution is no joke — it's also no accident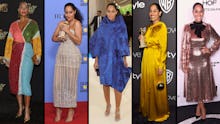 When your mother is Diana Ross, it's pretty obvious you were born not only knowing how to dress, but knowing how to absorb all the available energy on a red carpet. That's certainly the case recently for Tracee Ellis Ross, indeed one of Diana's daughters, with Ross consistently turning out stunning and interesting outfits on red carpets that are worthy of a head turn.
To the 2017 Met Gala in May, for example, she arrived on-theme, wearing a show-stopping blue satin dress by Comme des Garçons, wrapped around her like an origami sawn.
A couple days later, to the 2017 MTV Movie Awards, she arrived in a patterned and sparkly Rosie Assoulin wrap dress that could have worked on no one but her.
And at Cannes a couple weeks later, she pulled out all the stops, wearing a red sequin and feather Jenny Packham gown that looked like it was made for her and her only.
Now, before these past few months, Ross' style wasn't necessarily bad — it was just kinda uneventful. To a red carpet in 2002, for example, there was no couture or sequins but rather basic, pretty dresses.
Just nothing to write home about. Same goes for red carpets in 2003 apparently too.
Now though, she arrives to events looking like this:
Chic and sophisticated and always, always fun. Rihanna-esque in her styling and sense of cool.
So what — or who — is at the root of Ross' spectacular style transformation, which has effectively launched her into must-watch red carpet icon status? Beyond merely just Ross, whose taste we trust has escalated too, she got herself an extremely talented stylist.
Karla Welch, who styles women like Ruth Negga and Lorde and Elisabeth Moss and Demi Moore, has been working with Ross since May, and so these fantastic, chic and original ensembles are really no accident at all, but a true collaboration between Ross and Welch.
They're just steps on Welch's own journey to cementing Ross' status as a risk-taking style icon. "I just kind of love what she represents and who she represents," Welch said in an interview. "I'm attracted to super strong, interesting women and she fits that bill."
In a rather heart-stopping ordeal for Welch, her first time working with Ross was actually the Met Ball, when she arrived in that blue Comme look.
"We got on that phone with each other, and it's like, 'She needs help with the Met Ball,' and the Met Ball is six days away!" Welch said. "Then I was like, Well, here's a dress that I think you're perfect for.' And then it was the connectivity and sense of one another, that we both wanted to take risks, that really worked for her."
When it comes to styling, Welch, who's been a stylist for 16 years, tries to find outfits by thinking about each of her clients' identities. For Ross these past few months, she definitely had an identity, but they wanted to amp things up a bit.
"She has a strong identity but with clothes, we're just bringing it to another level," Welch said. "The truth is, when you work with a super-established stylist and a talent too, you can go further. I think what's fun about Tracee is that she's willing to take risks and I will push her to take them. She's a truly clever person. It's bringing a really refined eye, a little magic happens."
We couldn't agree more.