'Wolfenstein 2' Preorder Discount: Get a hot deal if you buy 'The New Colossus' now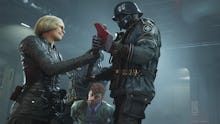 If you're in the mood to rain hellfire on thousands of techno-Nazis, Wolfenstein II: The New Colossus is the game for you. Announced to great fanfare at E3 2017, the game sees William "B.J." Blazkowicz take the fight to his native USA in a game that looks equal parts thrilling and bizarre.
Like all big new games, it's $60. If you act now, though, you can get it for significantly less by preordering Wolfenstein 2 at a discount ahead of its official release date, Oct. 27.
How to preorder Wolfenstein 2 for $35
There isn't much to say here beyond the fact that Wolfenstein 2 is $35.79 on CD Keys right now. Keep in mind that this isn't Steam, it's an alternative PC marketplace. It seems like a trustworthy source, but understand going in that this isn't the official way to buy the game. Of course, this is also only the PC version.
If you want a lesser but more official discount, you get 20% off if you preorder the game with Amazon Prime. The choice is yours.
More news from Bethesda BE3 2017
Check out more of our coverage from the Bethesda BE3 conference, including a look at what's coming for Elder Scrolls Legends and Dishonored 2. We've even got a look at the new VR experiences for Doom and Fallout 4. But if you really want to be blown away, make sure you check out The Evil Within 2 and Wolfenstein 2: The New Colossus.