Dow Jones won't talk about its reported pay gap problem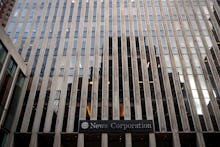 Dow Jones, the parent company of The Wall Street Journal, Barron's and other news publications, is refusing to publicly discuss a report showing evidence of a widespread gender pay gap at the company.
It's been nearly two weeks since the Independent Association of Publishers' Employees, the union representing more than 1,000 employees throughout Dow Jones, released an analysis purporting to show widespread evidence of a "significant pay gap between men and women" at the company. The analysis, which the consulting group Strength in Numbers conducted on the union's behalf, came a little over a year after IAPE presented Dow Jones management with a study showing that the company was paying women and employees of color less than it paid white male employees.
This new study — which examined pay data for all of Dow Jones' union-represented employee from 2000 through mid-2016 — found that male reporters consistently made more than their female colleagues through almost every age group, even if the employees were same age and had the same levels of experience. Throughout the company, female employees on average made less than 85% of what their male colleagues did.
"What we believe we have found is additional evidence supporting our claim that we first made last year that there is a pay gap at Dow Jones, and that the gaps between male and female pay — in particular, for reporters — can't simply be explained away by claims of experience," Tim Martell, IAPE's executive director, said in an interview.
"What Strength In Numbers presented to us this year just confirmed our initial findings," he added.
IAPE's initial study about the gender pay gap at the company, which was released in March 2016, prompted Dow Jones CEO and publisher William Lewis to promise a full investigation into the "troubling" claims. Wall Street Journal Editor in Chief Gerard Baker, too, said he was "personally committed to eliminating it as a matter of urgency."
But after hiring an outside consultancy to review the data, Dow Jones said the union mostly incorrectly analyzed the data, and said differences in pay between men and women were mainly due to factors like experience and different job titles. The company's chief people officer, Mark Musgraves, said in December 2016 that the company would adjust the salaries of less than 3% of employees to account for pay disparities.
Martell said IAPE was not able to examine how Dow Jones reached the conclusion it did because the company refused to release details about the analysis it conducted. Dow Jones has said that details about how the analysis was conducted are "proprietary," "confidential" and "not relevant."
IAPE, believing more people at the company needed their salaries adjusted, hired its own consultancy to review pay data again.
This year, though, Dow Jones will not talk about the results of the study at all.
The company is not just ignoring Mic's many requests for comment. It also has not discussed the findings with the union, other than sending the union a note acknowledging it had received IAPE's findings 13 days ago.
On Monday morning, Martell confirmed that the union still "hasn't received any response from any management representative."
Martell said IAPE won't wait around for a response from Dow Jones. The union is seeking additional information from its members about how employees think Dow Jones handles pay equity issues, and is offering salary comparisons to its members so employees can be armed with with pay data when advocating for more equitable salaries.
IAPE will continue reviewing data as it comes out quarterly from the Dow Jones payroll, Martell said. The union also plans to conduct additional analyses to examine possible pay disparities among employees of different races.
"This will not be our last salary review," Martell said. "We're going to continue with these analyses and studies, and we're going to continue publishing these results. Dow Jones can choose to ignore us this time, but it does not mean we're going away."