SNES Classic Edition Games List: Console, controllers, preorder and everything we know so far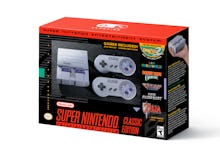 The moment you've been waiting for is here: Nintendo finally announced the SNES Classic, a miniature version of the Super Nintendo that comes pre-packaged with 21 games, including Star Fox 2, a game Nintendo completed but never actually released — until now.
The SNES Classic will function just like its predecessor, the NES Classic, in that you won't be able to use any of your old SNES games with it — just the ones that are loaded inside already.
The upside, of course, is that this bad boy will fit right in the palm of your hand.
Luckily, Nintendo seems to have learned from one of its mistakes with the NES Classic: Instead of including just one controller, the SNES Classic will come with two.
Unfortunately, this new console will cost $10 more, at a suggested retail price of $79.99. The SNES Classic will be available Sept. 29. No word on whether retailers will allow for preorders, yet.
The full list of games available on the SNES Classic is embedded below.
SNES Classic games list
• Contra III: The Alien Wars
More gaming news and updates
Check out the latest from Mic, like this essay about the sinister, subtle evils lurking in rural America that Far Cry 5 shouldn't ignore. Also, be sure to read our review of Tekken 7, an article about D.Va's influence on one Overwatch player's ideas about femininity and an analysis of gaming's racist habit of darkening villains' skin tones.