Trump says Supreme Court action on travel ban "a clear victory for our national security"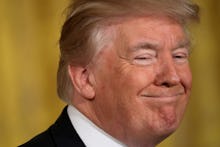 President Donald Trump praised the Supreme Court on Monday for agreeing to hear his appeal on the controversial travel ban, as well as allowing much of the ban to be enforced.
"Today's unanimous Supreme Court decision is a clear victory for our national security," the president said in a statement.
On Monday, the Supreme Court said Trump's travel ban can be enforced against refugees and people from the six majority-Muslim countries who do not have a "bona fide relationship with a person or entity in the United States."
"When it comes to refugees who lack any such connection to the United States, for the reasons we have set out, the balance tips in favor of the government's compelling need to provide for the nation's security," the Supreme Court said in its decision to grant the case.
Trump lauded that decision, saying the lift on much of the enforcement ban "allows me to use an important tool for protecting our nation's homeland."
"As president, I cannot allow people into our country who want to do us harm," Trump said. "I want people who can love the United States and all of its citizens, and who will be hardworking and productive."
U.S. Attorney General Jeff Sessions issued his own statement, praising the Supreme Court and expressing confidence that the ban would ultimately be upheld.
"Through Article II of the Constitution, the founders of our country vested the Executive Branch with a great responsibility: to ensure the national security of our country," the statement read. "I am committed to defending the president's ability to exercise that responsibility and the Department of Justice is confident that the United States Supreme Court will uphold this Constitutional and necessary executive order."
The Supreme Court will hear the full case on the travel ban in October.
June 26, 2017, 1:11 p.m. This story has been updated.