Your self-guided tour to the top 10 movie and TV filming locations in NYC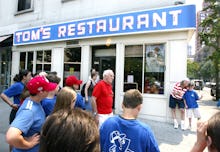 As Alicia Keys sang on Jay-Z's "Empire State of Mind," New York City is the concrete jungle where dreams are made of. It's also where movies and TV shows come to life.
Over the years, countless movies and TV series like Home Alone 2: Lost In New York and Sex and the City have turned some of the city's locations into mandatory tourist destinations. If you're hitting up the Big Apple for a few days, there are some places everyone will need to visit.
The city has it all. In the mood for dessert? Stop by Serendipity 3, which was made famous in Serendipity. Or re-enact the fake orgasm scene from When Harry Met Sally at Katz's Deli for everyone's listening pleasure.
Here are the top 10 TV and movie locations to visit in New York City:
The New York Public Library has been used in movies like Sex and the City and Ghostbusters. In the first Sex and the City movie, it's the infamous spot where Carrie and Big were supposed to be married until he stood her up at the altar. In Ghostbusters, it's where Drs. Venkman, Stantz and Spengler have the living daylights scared out of them by a spectral librarian.
The John Cusack and Kate Beckinsale romantic comedy Serendipity shares the same name as the famous New York restaurant. It's where Beckinsale's Sara and Cusack's Jonathan first met. Sara returns there with her friend Eve, played by Molly Shannon, to enjoy a dessert, discuss life and wait for the love of her life to walk through the door.
In Sleepless In Seattle, Annie, played by Meg Ryan, and Sam, played by Tom Hanks, finally meet at the top of the Empire State Building. Re-create your own Nora Ephron-inspired romantic comedy by taking a trip to the iconic building.
Just like Kevin McCallister, you can also get lost in New York when you visit the Plaza Hotel. It's where Kevin stays in Home Alone 2: Lost in New York while he tries to reconnect with his family. Order room service, plan hijinks and make sure you tip Rob Schneider. It's also the place where Kevin got directions from a particularly famous real estate mogul named Donald Trump.
Take a trip to the riverside and visit the Queensboro bridge where this classic scene from Manhattan was shot. Under the bridge is where Isaac, played by Woody Allen, and Mary, played by Diane Keaton, spend some time getting to know each other.
Is a trip to New York complete without a stop at Tom's Restaurant? The answer is no. Stop by the location that inspired Monk's Cafe, the fake diner where Jerry, Elaine, George and Kramer had many inane conversations over the course of Seinfeld's nine seasons.
The only thing more memorable than Felicity's terrible haircut is Dean & DeLuca. It has the same name as the famous market in SoHo and it's where Keri Russell's titular character worked on Felicity. Stop by and debate if she should have ended up with Ben or Noel.
Walking around New York can make you hungry, so a stop at Katz's Delicatessen is a must. The restaurant is the setting for the legendary scene from When Harry Met Sally, where Sally, played by Meg Ryan, really expresses herself.
While MacLaren's, the bar frequented in How I Met Your Mother, doesn't actually exist in New York, the place that inspired it does. McGee's is where How I Met Your Mother creators Craig Thomas and Carter Bays went when they worked at the Late Show With David Letterman.
A traveler should always indulge and have some breakfast at Tiffany's, Audrey Hepburn-style. By this we mean eating your coffee and pastries outside, not in.
This swanky location was made famous by the Hepburn 1961 classic Breakfast at Tiffany's. The flagship location on Fifth Avenue is must-see for any cinephile and Hepburn fanatic. So put on your best diamonds, grab a breakfast sandwich and gawk at the expensive jewels in the windows.
Mic has ongoing New York City coverage. Please follow our main New York City hub here.