'Star Fox 2' 2017: SNES Classic release date and games revealed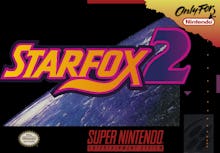 So, Star Fox. It's a game series with a complicated history. The original came out in 1993 and one of its sequels, Star Fox 64, made the series a household name nearly four years later. Fox McCloud and his team of misfit Arwing pilots are a household name at this point, so you might wonder why everyone is freaking out about Star Fox 2 being bundled with the now officially announced SNES Classic, which launches in September.
The reason for this is very simple, but you might not believe it: Star Fox 2 has never had an official release. Ever.
Star Fox 2 2017: SNES Classic launch will be its first official release
As Patrick Klepek explained in Kotaku in April 2016, Star Fox 2 never saw an official release. What's insane about this is that, according to Klepek, the game was 95% complete by the time Nintendo opted to shutter it. The sequel to Star Fox included six playable characters, a dynamic world map and random encounters.
Although various builds of the game have leaked online, there has never been a legitimate release — not in North America, not in Europe, not even in Japan. A lot of the ideas in the game would find new life in Star Fox 64, a reboot of the original game, but it's still strange that a game so close to completion has never been released.
That's why it's so huge Star Fox 2 will be included in the SNES Classic bundle. As noted by Nintendo Life, it's still unclear what game we'll be getting. The 95% completed version? A different, previously leaked beta build? Or a never-before-seen fully completed version? It's a remarkable, historic event regardless, and we can't wait to save the Lylat System again — after we beat level one of the original Star Fox to prove ourselves, of course.
More gaming news and updates
Check out the latest from Mic, like this essay about the sinister, subtle evils lurking in rural America that Far Cry 5 shouldn't ignore. Also, be sure to read our review of Tekken 7, an article about D.Va's influence on one Overwatch player's ideas about femininity and an analysis of gaming's racist habit of darkening villains' skin tones.