France convenes youngest, most diverse Parliament in its history. Is this the future of Europe?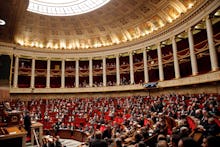 A new session of France's Parliament will convene Tuesday, after the country's election in June ushered in the government's most diverse cohort yet.
The country's National Assembly election, which elected officials to one of the country's two houses of Parliament, was a resounding success for La Republique En Marche, the party of recently elected President Emmanuel Macron. The centrist LREM, party, which was first formed for Macron's election just over a year ago, earned 351 out of the assembly's 577 total seats — many of which are now occupied by younger and more diverse politicians than before.
"For the first time under the (postwar) Fifth Republic, the National Assembly will be deeply renewed — more diverse, younger," LREM's acting president, Catherine Barbaroux, said, according to Reuters.
A more diverse Parliament
France's National Assembly will have a much younger group of politicians at its helm. The average age of its politicians is now 48 years and eight months, as compared with 54 in 2012, French news outlet the Local reported.
The group's youngest politician is 23-year-old Ludovic Pajot, of the National Front party, with LREM's youngest politicians including 24-year-old Typhanie Degois and 28-year-old Sacha Houlié.
In addition to skewing younger, the National Assembly will now be more heavily female than ever before. The recent election ushered in a record number of female politicians, with 223 of the country's 577 seats — 38.6% — going to women, as compared to 155 in the previous election.
The rise in female politicians can be largely attributed to LREM, who put up a gender-balanced slate of candidates. According to Reuters, though France has a system of restricting funding to political parties whose candidates aren't at least 49% women, parties often place these female candidates in less likely races, limiting their chances of success.
"En Marche ... proactively decided to give winning seats to women," newly elected representative Brune Poirson said to Reuters. "This is a really bold move."
More ethnic minorities will also be represented in this parliamentary group. Though gathering demographic data based on ethnicity is prohibited in France, France 24 calculated that 35 of the National Assembly's seats will now be filled with politicians from diverse backgrounds — up from a mere 10 seats after the last election.
This diverse collection of politicians is largely thanks to LREM's decision to run many candidates who are new to the world of politics. Over 50% of the party's candidates had never held political office, according to the New York Times.
Macron "wanted a government based on skills and not on political past history," recently elected politician Amélie de Montchalin told Vox. "For many decades, both ministers and members of parliament were chosen because they were loyal local officials and [often] noisy ones."
Among this diverse slate of fresh-faced LREM politicians are 27-year-old economist Hervé Berville; 43-year-old Cédric Villani, who is known as the "Lady Gaga of mathematics"; former professional handball player Aude Amadou; and 33-year-old Mounir Mahjoubi, who will serve as the youngest member of Macron's cabinet as a junior minister for digital affairs.
"That they took me, it's really a very strong symbol," Berville, who is originally from Rwanda, told the New York Times. "It's a symbol of renewal. The citizens are waiting. They need to be heard."
A European trend?
LREM's sweeping parliamentary win has gone unmatched in the European elections thus far, with some election results, such as Bulgaria's parliamentary elections in March, seen as merely upholding the status quo.
But there are signs this trend toward younger, more diverse politicians is beginning to take hold.
Though the Dutch election in March went to center-right Prime Minister Mark Rutte, the election was notable for the success of the GreenLeft party, which became the country's largest Left party for the first time when it earned 14 parliamentary seats. The party is led by 30-year-old Jesse Klaver, a charismatic politician who has been compared to Justin Trudeau and hailed by his supporters as "the Jessiah."
The United Kingdom too took clear steps toward a diverse Parliament during its June 8 general election, in which turnout among voters ages 18 to 24 increased by 16% from 2015.
According to the BBC, the election resulted in the country's most diverse parliament in history, including 45 LGBT members of Parliament, 52 MPs of color and 208 women — all of which break the government's previous records. Additionally, June 8 saw the re-election of Scottish MP Mhairi Black, who became the youngest MP elected since 1667 in 2015, when she was just 20 years old.
The continent's next major diversity test will come in September, as Germany heads to the polls and German Chancellor Angela Merkel fights for re-election.