American Medical Association says Senate health care bill violates pledge to "do no harm"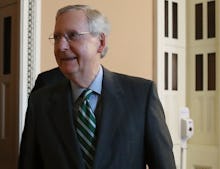 The American Medical Association, the largest organization of physicians in the country, came out forcefully against the Senate Republican health care plan on Monday, saying the GOP's plan would violate the industry-wide pledge to "do no harm."
"Medicine has long operated under the precept of Primum non nocere, or 'first, do no harm,'" James L. Madara, the CEO of the association, wrote in a letter to senators laying out the group's official position on the bill. "The draft legislation violates that standard on many levels."
The AMA says it opposes the Senate's legislation because it "will expose low and middle income patients to higher costs and greater difficulty in affording care." Specifically, the AMA opposes the GOP's planned Medicaid cuts, which the group says would "limit states' ability to address the health care needs of their most vulnerable citizens."
"It would be a serious mistake to lock into place another arbitrary and unsustainable formula that will be extremely difficult and costly to fix," Madara wrote in the letter.
The letter comes as a handful of Senate Republicans have voiced opposition to the GOP proposal ahead of the vote, tentatively scheduled for Thursday.
In March, the AMA had came out against the House's version of the bill, saying that version was "critically flawed" and would "have an adverse impact on patients and the health of the nation."
The House voted to pass the so-called American Health Care Act anyway.