Who is AD on 'Pretty Little Liars'? One last look at the suspects before the series finale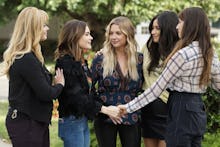 A question that has been plaguing Pretty Little Liars fans for over a year will finally be revealed during the series finale on Tuesday night: the identity of A.D.
Aria, Emily, Hanna, Spencer and Alison began getting targeted by a new villain named A.D. — or Uber A — in the second half of season six. This mysterious person wanted revenge for Charlotte's death and began tormenting the Liars with a high tech game board in order to find out who really killed her.
Mona came clean as Charlotte's killer in episode 19 of season seven. Her confession resulted in the game board shutting down, but a quick look at A.D. in the final moments of the episode revealed that they weren't exactly done with the Liars. The mysterious figure held onto the game board pieces that represented the five Liars.
So, who is the key player on Pretty Little Liars? We're ranking the Uber A suspects on how many black hoodies they probably have in their closet.
Wren
Where do we even begin with Wren? The doctor went missing after season four. He resurfaced in Rosewood in episode 15 of season seven during a brief scene with Spencer at the airport... and then he vanished again.
Well, thanks to the promo video for the series finale we know that Wren will be back — and packing heat. That's right, Wren's got a gun. But why? And who is he trying to kill? While we'll have to wait for those answers, here are the biggest clues that Wren is Uber A:
Season three, episode 23
Wren was a doctor at Radley Sanitarium early on in the series. When Spencer was admitted into Radley he had an uncomfortable exchange with a Radley employee named Eddie. Eddie seemed to sense that Wren wasn't at the facility for the "right reasons."
But that wasn't the only suspicious thing that viewers learned about Wren in episode 23 of season three. Thanks to clues from a board game, Spencer discovered some hidden "memorabilia" from Mona's time locked up at Radley— Wren had authorized Cece or Charlotte's visits to Mona. According to Wren, Cece thought she could serve as a "role model" to Mona and help her recover from the "wounds inflicted by Alison." Like Mona, Cece had been one of Alison's "victims." It was because of Alison that Cece was kicked out of college.
Season four, episode 11
Wren had a very strange conversation with Mona while she was a patient at Radley (for the second time). Despite Wren being her doctor, Mona seemed to be holding all the cards during their talk. She called him out for having a secret.
Later in the episode Wren can be seen coloring a drawing of a family that he showed Mona — and he just so happened to use the color red on the woman's coat. Viewers know that Cece used to wear a red coat when sneaking around town. The coloring scene could be a nod to him aiding Cece.
How likely is he A.D.? We give him five black hoodies.
Melissa
Could Melissa really torment her own sister? Anything is possible in Rosewood — after all, Mary Drake confessed to killing her sister, Jessica DiLaurentis.
Like Wren, Melissa hasn't been seen on screen much in recent seasons. She resurfaced for two episodes in season six after Cece was murdered, but then disappeared again. According to the promo video, Melissa will make an appearance in the series finale — potentially to reveal herself as A.D. Check out some of the most incriminating evidence against Melissa:
Season two, episode 25
Melissa dressed as the Black Swan to the masquerade ball and was caught talking with Jenna and Lucas. Why would Spencer's older sister go to a high school dance? She later explained that she was forced by "A," who she thought was Mona.
Season three, episode 23
It's not clear how close Cece and Melissa were, but Wren revealed to Spencer that Melissa was the one who told Cece that Mona had been admitted to Radley. That information led Cece to visit Mona on multiple occasions, despite the fact that Mona was not allowed to have visitors.
Season three, episode 24
Melissa held a secret meeting with Jenna and Shana to talk about the "bitches" being at the lodge before it burned down.
How likely is she A.D.? We give her four black hoodies.
Lucas
Yes, Lucas already denied being A.D. after his childhood connection to Charles was revealed, but that doesn't mean he was telling the truth. The former Rosewood nerd is definitely suspicious, here's why:
Season six, episode 13
When Pretty Little Liars viewers reunite with Lucas after the five-year time jump he reveals that he's now a game app developer. Considering the Liars later receive an elaborate electronic board game with a phone counterpart, Lucas' occupation cannot be ignored.
The apartment and his connection to Hanna
Lucas doesn't receive too much screen time in season six or seven. He's mainly reintroduced in the five-year time jump to give Hanna a place to stay and to help launch her own clothing line. When you think about it, it's a very generous offer. Lucas and Hanna didn't stay in touch after high school and Lucas didn't stay in Rosewood to hang out. It would make sense that he would lend his loft to Hanna to keep an eye on her and her friends.
But why would Lucas torture Hanna so much if he was A.D.? He could still be upset with Hanna for rejecting him in high school, although that's one hell of a grudge to hold onto.
How likely is he A.D.? We give him one black hoodie.
Spencer
Does Spencer have a twin? That's a hot theory circulating right now, and honestly, it could be legit.
Pretty Little Liars has been teasing a twin storyline since season two when Alison told a scary story about a murder. Since Mary Drake was Jessica DiLaurentis' twin, it's possible that Mary Drake herself could have had twins when she gave birth to Spencer.
Another interesting theory circulating is that Spencer is straight up evil. Here's a couple of suspicious clues:
Season six, episode 13
During her sophomore year of college, Spencer took a criminology class and wrote a paper about the murder of a woman. Charlotte's death mirrored that exact murder a couple years later.
Season seven, episode 15
Spencer had a secret meeting with Wren at the airport and asked Ezra not to say a word about it to anyone else. What makes the whole situation even more sketchy is the fact that Spencer allegedly met up with him after going to see Detective Furey — and her appearance was drastically different.
How likely is she A.D.? We give her two black hoodies.
Mic has ongoing Pretty Little Liars coverage. Check out our main Pretty Little Liars hub here.