7 award-winning wines that cost $10 or less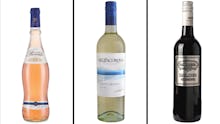 "The dirty secret of this business is that a $1,000 bottle of wine is maybe 2% better than a $50 bottle of wine. And sometimes, even, it isn't," a wine store manager tells Bianca Bosker in her new wine-fueled memoir, Cork Dork. This is only after she drops $275 on a bottle of 1990 Louis Latour Carton-Charlemagne (that's a white wine old enough to drink itself, and then some) at New York's Burgundy Wine Company. The wine, she later reveals, is good, but is it triple-digits good?
When it comes to the value of a bottle of wine, the complex pricing structure is based on quality — which in itself is subjective — as well as availability, collectability and marketability. Depending on personal preferences, a $10 bottle may taste just as good, if not better, than a $100 bottle.
And while research shows that you're more likely to enjoy your food (and drink) more if it's expensive, nothing's stopping you from pretending that glass of malbec from Trader Joe's didn't come from a $600 bottle.
Inexpensive wine is getting better and better, and the critics are noticing. Wines priced under $10 a bottle are now winning awards and making their way onto boutique wine store shelves and restaurant wine lists (albeit with high markups).
La Moneda Reserva Malbec, $9
This Walmart-owned wine took home a prestigious platinum metal at Decanter's 2016 World Wine Awards. The Chilean malbec is made specifically for Asda, a U.K. chain of stores owned by Walmart. While it's frequently sold out (and only available at Asda locations and through its online shop), check often for a replenishment of arguably the best wine very little money can buy.
Ruffino Chianti DOCG, $9.99
This Italian Chianti has won Silver Medals in both the Los Angeles International Wine Competition and San Francisco International Wine Competition. Produced at Ruffino since the early 1900s, this medium-bodied ruby red wine pairs well with all your favorite Italian dishes. Bring on the lasagna!
Aldi Exquisite Collection Côtes de Provence Rosé, $7.70
This French rosé took home a Great Value award at the 2017 International Wine Challenge, often referred to as the Oscars of wine. While the winning bottle is exclusively sold in Aldi stores, ask your wine seller for a blend of grenache, cinsault and syrah varietals for something similar.
Vino Del Sol Zolo Signature Red, $8.99
This Argentinian red blend made with malbec, cabernet sauvignon, bonarda, and merlot has tasting notes of cherry, plum and mint. The wine was awarded five stars by Restaurant Wine, Wine Enthusiast named the 2012 vintage a "Best Buy" and the Beverage Testing Institute awarded this wine 90 points. Not bad at all for the price.
Mezzacorona Pinot Grigio, $8.99
This stone fruit-accented white wine grown in the foothills of the Italian Alps scored an impressive 91 points at the Ultimate Wine Challenge and comes "highly recommended" from the panel of judges. If you drink your white wine like water, buying this by the case is the best deal you can get.
Les Dauphins Côtes-du-Rhône Reserve Rouge 2014, $9.99
This French red blend of grenache (70%), shiraz (25%) and mourvedre (5%) certainly tastes more expensive than it actually is, which is the true proof of an inexpensive wine's excellence. This bottle won a Gold Medal at the New York International Wine Competition and a Bronze Medal at TEXSOM International Wine Competition.
Eufloria Rosé, $9
This pretty pink wine won a Gold Medal and "Best of Class — Domestic Sweet" award at the 2016 Rosé Today Competition. It also wins an informal award for coming in one of the most beautiful bottles you can bring to a summertime party. Sweet and pink, this wine pairs with pretty much anything and is an obvious people-pleaser.