A Czech company made interns compete in a bikini contest to get hired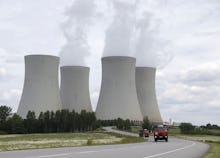 To earn an internship at Czech power plant CEZ this summer, high school graduates were required to send a photo of themselves in a bikini to their prospective future employers.
Yes, really.
The company uploaded the photos to its Facebook page and asked users to vote for their favorite — the winner would be the lucky recipient of a two-week internship at the power plant. The post, which has since been deleted from CEZ's page, has earned more than 1,500 likes.
In an interview with the Independent, a CEZ spokesperson said holding competitions for intern candidates isn't all that unusual for the company, which grants internships to "winners of competitions either organized by CEZ or by the third parties."
The bikini competition is part of the beauty pageant Maturantka Roku.
"The fans on the Facebook page of the Information Centre Temelin could cast a vote on the Facebook page and choose a girl that would receive a short internship according to her preferences — if she plans to study journalism, she would do the internship in the press office, if she plans to study economy, she might do it in the economy department," the spokesperson explained.
It's not unheard of for a company to consider it above board to evaluate female employees solely based on their appearance.
In April, news broke that male police officers in Querétaro, Mexico, had been conducting "attractiveness " inspections on their female colleagues, who were members of an all-women police squad. Another Mexican city had similarly required its female police officers to wear low-cut tops, tight pants and high-heeled boots on the job as their official uniform.
"I trained to be a police officer, not a showgirl," a female employee who filed a complaint against the police force said at the time.
While it's hard to come up with a non-sexist reason to have police officers running around in high heels, CZE's spokesperson seemed to have no problem inventing one to account for the company's bikini contest.
"The purpose of the competition was to promote technical education," the spokesperson told the Independent. "But if the original vision raised doubts or concerns, we are very sorry."
For the record: Women in STEM? Good. Women asked to sport bikinis to earn a job in STEM? Bad.
June 27, 2017, 4:06 p.m.: This story has been updated.