Even Donald Trump's schedule has become a victim of a White House push against transparency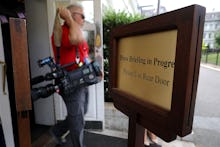 First they came for the on-camera briefings.
Now the White House press office is marking President Donald Trump's daily schedule as non-reportable — marking one more step in what both media and free speech watchdogs are calling out as an continuing effort to hamper coverage of the administration.
"It's very concerning," Alexandra Ellerbeck, senior U.S. and Americas researcher for the Committee to Project Journalists, said in an interview on Monday. "I do think we've seen a number of signals that this is not an administration that is dedicated to transparency, or has any interest in transparency as a value."
Ellerbeck, whose group promotes freedom of the press worldwide, pointed to a series of steps the Trump White House has taken since Inauguration Day to try to limit the ability of the fourth estate to question the administration and report its activities to the public.
Among those she ticked off: A refusal to make public the White House visitor logs; killing the cameras at daily news conferences; having secretary of state Rex Tillerson travel without reporters in tow; and Trump's public threat to end daily reporter briefings entirely.
On Monday, CBS News White House correspondent Mark Knoller noted on Twitter that so far in June, just five daily briefings were held on camera. Ten were held off camera. On three days, there was no briefing at all.
At Monday's briefing, reporters from outlets ranging from CNN to the One America News Network confronted White House press secretary Sean Spicer — whose sparring and fumbles during televised briefings spawned a fresh subgenre of political satire — about why filming the session was off limits.
"Some days, we'll have 'em; some days we won't," Spicer said, per audio released by CNN after the briefing, insisting the practice wasn't inconsistent with anything the administration had said "since day one."
At least one scribe called the camera situation "appalling." Another had previously detailed why the Trump crackdown on distribution of public schedules might actually hurt the president in terms of even good PR.
Afterward, the president's son, Donald Trump Jr., threw a social media elbow at CNN's Jim Acosta for "whining" after he and Spicer went at it over the cameras.
Such call-outs are an occupational hazard of sorts, warned James Warren, chief media writer for the Poynter Institute and a former Washington bureau chief for the Chicago Tribune and New York Daily News.
"The past should not be prologue, and the media needs to watch out about resembling spoiled whiners. After all, the best White House reporting may have little to do with the sparse handouts by press secretaries and other officials," Warren said via email.
"That said, the Trump moves are all driven by a woefully transparent impulse to evade and protect a mercurial president who often loses battles with the truth." 
Also Monday, Trump met with Prime Minister Narendra Modi of India. In contrast to other visits by foreign leaders, including Angela Merkel of Germany, Benjamin Netanyahu of Israel and Justin Trudeau of Canada, there was no joint news conference featuring press questions.
David Nakamura of the Washington Post tweeted that Spicer wouldn't say which leader objected to a Monday question and answer session.
Trump's very presidency is inextricably tied to the amount of free (or "earned") media he received during his longshot campaign for the Oval Office. Yet during that same run, trashing the "dishonest" press was guaranteed applause fodder at his raucous rallies.
That held true even after his election, when he relaunched those large-scale non-governmental appearances.
Ellerbeck, of CPJ, said that Team Trump, even with a love-hate relationship with the press that dates back to the 2016 campaign, if not further, is hardly the only administration that can be criticized on openness issues.
"The Obama administration, they [also] got a lot of well-deserved flak for being very controlled in their message and for making it hard for reporters to get information," she said.
Asked about Trump openness, or lack thereof, Larry Sabato, director of the Center for Politics at the University of Virginia, also found fault with the previous administration — but put the current situation in the most dire of terms.
"Obama wasn't strong on transparency, but Trump has set a modern record for lack of openness. It's as though he learned all the wrong lessons from Richard Nixon. Can an enemies list be far behind?" Sabato asked via email.
"The tragedy is that millions and millions of Americans don't care a whit that the public's business isn't public," he lamented. "That's how democracies decline and fall."
June 26, 2017 6:22 p.m.: This story has been updated.