Migos 'Crash Bandicoot' Chain: 5 times rappers have repped classic video games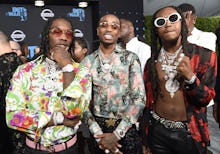 Quavious Marshall, better known as Quavo of the rap group Migos and one of the iciest rappers of hip-hop's younger generation, debuted his newest chain at Sunday's BET Awards: a jewel-encrusted model of Aku Aku, the wooden mask spirit guide from the classic video game Crash Bandicoot.
Social media immediately lit up with praise, with users sharing memories of the insensible phrases Aku Aku would utter to help Bandicoot save his girlfriend Tawna from the evil Dr. Cortex. When found, the enchanted wooden mask would protect players for a single hit or grant temporary invincibility if players had collected three.
Quavo's icy witch doctor mask was crafted by famed jewelry maker Elliot Avianne, who shared a proper close up on Instagram.
Avianne has designed several of the chains in Quavo's collection, crafting the diamond-studded miniature of the rapper holding the rat from Pixar's Ratatouille and his glimmering Yoda head, which he also wore Sunday. But the new piece also builds upon an even greater legacy — the rapper video game chain.
Examples are scattered like rare 1-Up mushrooms throughout hip-hop history with artists like Pharrell, Chris Brown and Just Blaze wearing their gaming obsessions like badges of honor. It peaked in the early aughts, the very beginnings of the internet rap era, when rappers like T-Pain and Soulja Boy ruled. Now that one's meme game often makes the difference whether rappers hit no. 1 or flounder on the charts, the larger-than-life cartoon-inspired chain appears to be enjoying somewhat of a Renaissance.
In celebration of this possible return, scroll through our list of five of the greatest video game rap chains of old and dream of the day you can afford to rock your achievement trophy around your neck like a true boss.
1. Soulja Boy's Mario with guns chain
Soulja Boy's Mario doesn't have time to run and jump his way though the Mushroom Kingdom to save his princess. He goes straight Grand Theft Auto on his enemies like the mafioso he was born to be.
2. Young L's Boo and Domo chains
The video for "Triple Chain" gang gave Young L and Soulja Boy the perfect opportunity to show off their lavish Nintendo-themed ice. Soulja Boy rocks his Mario chain, while Young L boasts his own icy necklaces featuring Boo and Domo-kun. Technically, the latter was first a television mascot, before he eventually earning his own line of games. L loved that Boo chain so much, he named one of his mixtapes after it in December.
3. Pharrell's Mario chain
A more canonical interpretation of the Super Mario chain, Pharrell showed off a star power up piece in N.E.R.D.'s "Hypnotize U" in 2010. But the famed producer and rapper actually owns several. He shared shots of himself wearing a blinged-out mushroom and what appears to be a mystery box in a 2010 post on the blog of his fashion company the Billionaire Boys Club, under the caption, "Mario Kart to the next level."
5. Chris Brown's Kirby chain
There was not much to appreciate about Chris Brown in 2010. He was dealing with the fallout over the guilty verdict following his domestic abuse of ex-girlfriend Rihanna. He even got his visa denied trying to enter the United Kingdom. This Kirby chain was a lone bright spot, and may still be his brightest since.
5. Just Blaze's PS3 Chain
Everyone's got their favorite controller on their home system — the one that responds just right — Just Blaze's just happened to cost around $25,000, according to a Complex estimate. Mic has not been able to confirm whether the controller had wireless capability or could actually be played. The same goes for Nick Cannon's illusive Gameboy chain.
More gaming news and updates
Check out the latest from Mic, like this essay about the sinister, subtle evils lurking in rural America that Far Cry 5 shouldn't ignore. Also, be sure to read our review of Tekken 7, an article about D.Va's influence on one Overwatch player's ideas about femininity and an analysis of gaming's racist habit of darkening villains' skin tones.