Trump tweeted that the Supreme Court decided "9-O" to uphold the travel ban. It didn't.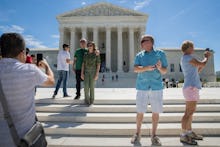 President Donald Trump tweeted Monday to say he was "very grateful" that the Supreme Court, the highest court in the United States, ruled unanimously to uphold Trump's controversial travel ban, which prohibits passage into the United States from for nationals hailing from six majority-Muslim countries.
To borrow one of Trump's favorite phrases, the claim that the Supreme Court decided anything — let alone to a count of "9-O" (and not, say, "9-0") — is fake news. The Supreme Court made no such decision Monday with regard to the legality of the travel ban. But here's what Trump's tweet likely meant.
On Monday morning, the supreme court announced that it would hear arguments for and against the constitutionality of Trump's so-called "Muslim ban" when the Supreme Court reconvenes in October for its fall session. Until they could hear the arguments concerning the ban's legality, six of the court's nine justices moved to allow a more limited version of the ban — which would temporarily allow nationals from the six targeted countries with a "bona fide relationship with a person or entity in the United States" to travel through our borders while temporarily preventing everyone else.
In Justice Clarence Thomas' partial dissent, where he was joined by Justice Samuel Alito and Trump appointee Justice Neil Gorsuch, Thomas argued that Trump's travel ban should have been reinstated in full ahead of the Supreme Court's fall session.
In other words, even though each justice of the Supreme Court agreed that at least part of the travel ban should go into effect ahead of the fall session, Trump was mistaken in suggesting that today's announcement explicitly presages anything about the future of his controversial executive order, which a federal appeals court ruling said "drips with religious intolerance, animus and discrimination."
Trump, the American public and nationals from the six majority-Muslim countries targeted by the travel ban will learn its fate this fall. Until then, you can read the Supreme Court's recent decision in full here.