'American Horror Story' creator Ryan Murphy releases a chilling new clue for season 7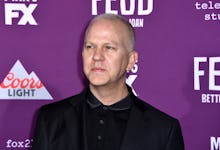 Since Ryan Murphy started his Instagram account in May, he's been actively hinting at what new atrocities the seventh season of American Horror Story might bring. Sunday's post revealed a new photo of what appears to be a deformed demon in the upcoming season:
Murphy's concise caption confirmed the photo represented a character from season seven, but gave away little else. However, a closer look at the drawing revealed several clues. Here are a few theories about season seven, based on Murphy's disturbing Instagram post:
A satanic cult may make an appearance.
In February, Murphy announced the theme for season seven would be "the election we just went through," but it seems Satanism might also find a place in the plot. (Don't expect Donald Trump or Hillary Clinton to appear as characters, though, despite the election theme.) The blue markings on the creature's face appear to be an upside-down pentagram, an ancient symbol still used today in Wiccan and Satanic practices.
Hands say a lot about a person.
The hand-antlers on top of the creature's head point to another clue. Both hands have six fingers on them — even though two are fused together on the right — which also suggests a link to previous American Horror Story character Jimmy Darling.
Darling, played by Evan Peters, had webbed hands like that. The similarity could simply be an homage to Freak Show, or it might denote that Peters will be making an appearance in the upcoming season.
Murphy has yet to announce a release date for American Horror Story season seven, but if the previous seasons are any indication, fans can expect the horror to begin sometime in the fall.
Mic has ongoing American Horror Story coverage. Please follow our main American Horror Story hub here.