SNES Classic vs. NES Classic: 4 ways the controller, game selection and stock levels will be better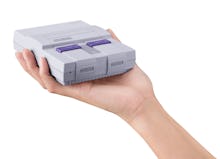 Surprising nearly nobody, Nintendo finally confirmed it's releasing the Super Nintendo Classic, a follow-up to the wildly popular, but extremely limited-edition NES Classic. But for all the nostalgia and fervor the NES Classic inspired, it was clear that Nintendo dropped the ball in more ways than one, from bizarre design choices to simply not making enough of the little guys.
Luckily, it looks like the SNES Classic will fix some of the missteps of its predecessor, while also adding a nice new feature, too. Here are four ways the SNES Classic is worth the fight for a pre-order over its older brother.
The SNES Classic comes with two controllers.
Ostensibly, a big draw of Nintendo's miniature, nostalgia-laced consoles is the ability to re-live one's own glory days with friends and family. However, the NES Classic came with just one measly controller. If you wanted to team up with a friend to play Balloon Fight, you had to buy a second controller separately.
Thankfully, the SNES Classic will include that second controller from the start, which will ensure there aren't any hidden costs or shady fine print to watch out for.
The SNES Classic's controller cables get an extra two feet in length.
Similarly, the SNES Classic will make one relatively small, but significant improvement to the controllers themselves: five-foot-long cables, instead of the bafflingly short three-foot cables on the NES Classic, according to IGN.
So, while sitting on the floor right in front of your television is perhaps a more authentic, childhood-like experience, your eyes and neck will thank you for being able to play from the couch this time around.
Nintendo will produce "significantly more units" of the SNES Classic.
When Nintendo launched the NES Classic, it seems as though it failed to anticipate just how rabid the appetite for that little fellow was going to be, and thus struggled to keep stores stocked to meet the demand.
So, naturally, the biggest question in everyone's mind when Nintendo announced the SNES Classic was this: Who am I going to have to kill to get my hands on one?
Luckily, Nintendo confirmed to Kotaku that it would be producing "significantly more units of Super NES Classic Edition than [it] did of NES Classic Edition." It remains to be seen exactly how plentiful these SNES Classics will be, but we're cautiously optimistic that, at the very least, you won't have to elbow anyone out of the way to buy one.
The SNES Classic includes Star Fox 2, a game that was never officially released
The NES Classic was cool and all, but you could argue that there wasn't really any reason to buy one if you still owned your original NES. The addition of save states was nice, but it was essentially just a repackaging of games that you could already get your hands on elsewhere.
While the SNES Classic is largely the same in that regard, there's actually a pretty big reason to buy it, even if you still have a perfectly good SNES lying around: The mini SNES comes with Star Fox 2, a game that Nintendo never officially released.
So, even if you got your hands on the leaked copy of Star Fox 2, you could never get the official thing — until now.
The SNES Classic will be available Sept. 29.
More gaming news and updates
Check out the latest from Mic, like this essay about the sinister, subtle evils lurking in rural America that Far Cry 5 shouldn't ignore. Also, be sure to read our review of Tekken 7, an article about D.Va's influence on one Overwatch player's ideas about femininity and an analysis of gaming's racist habit of darkening villains' skin tones.